With the all-electric Formula E Championship races set to begin later this year, those behind it decided to bring to the Las Vegas based Consumer Electronics Show one of the racing cars which will take part. A Spark-Renault SRT_01E was showcased there yesterday in its maiden public demonstration.
The Spark-Renault SRT_01E on display at the annual trade show, according to Renault, had at the wheel Brazilian racing driver Lucas di Grassi. He drove the electric racing vehicle along the Las Vegas Strip before moving on to the Mandalay Bay hotel/casino in the center of the city.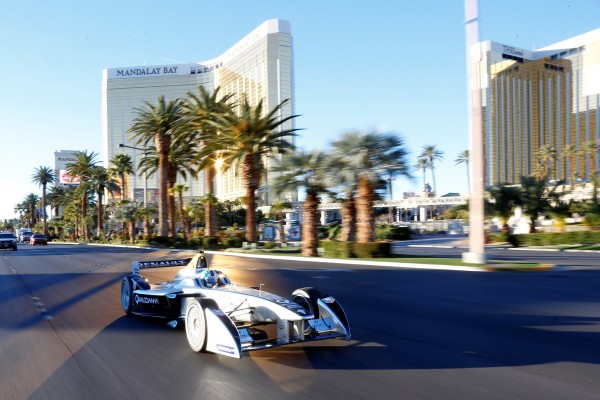 This demonstration follows on the heels of the car's initial presentation in Frankfurt, Germany this past September, after which it later showed off its moves at its debut track run near Paris, France. It will be initially used for the first season at least as the default the 10 teams and 20 drivers make use of. A total of 42 cars will be produced by Spark, with each driver using two cars during the one hour races that will be set in locales including Los Angeles, Miami, Berlin, London, Rome, Beijing, Rio de Janeiro, Buenos Aires, Putrajaya and Bangkok.
"Everybody at Renault is very proud that we were able to show the 100% electric Spark-Renault race car in driving conditions for a very tech-savvy crowd in Las Vegas," said Renault Sport Technologies CEO Patrice Ratti in a statement. "The work that has been done by all technical partners over the last few months has been fantastic and the car lives up to Renault's high competition standards. We are very happy about the result so far and our engineers will keep working with Spark, Dallara, McLaren, Williams and Michelin to further improve the Spark-Renault SRT_01E so that all teams can compete with an amazing 100% electric race car when the championship begins."