Cadillac, in developing the ELR extended range electric vehicle, did actually build a ride that, while pricey, also has a number of innovations in it. One particular feature, its Regen on Demand regenerative braking technology, stands out so much for its design it was recently awarded the Green Car Journal's 2014 Green Car Technology Award.
As for what this is specifically, Cadillac described Regen on Demand by saying that "like most regenerative braking systems in hybrid and electric vehicles, the ELR's electric motor acts as a generator while braking, automatically recovering energy that's delivered to the batteries as electricity. Unique to the ELR extended range electric vehicle, Regen on Demand also allows a driver to instantaneously engage and disengage regen at will by pulling back or releasing left or right steering wheel paddles. This not only creates electricity on demand, but enhances driving dynamics by inducing regen drag that allows decelerating before turns and in other circumstances, without braking or requiring a driver's foot to reposition from the accelerator pedal."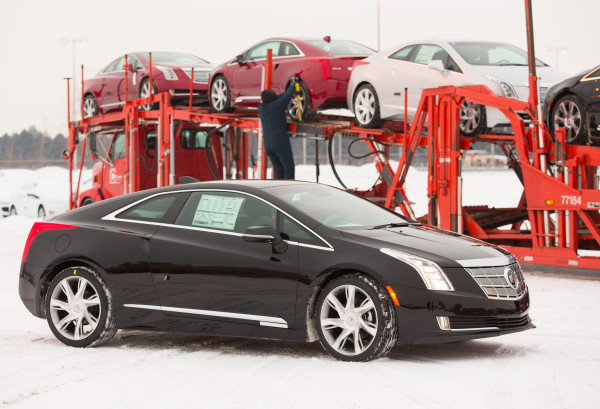 "Cadillac has cleverly evolved a common electric-drive efficiency system into an intriguing feature that adds a new dimension to the driving experience," said Ron Cogan, editor and publisher of Green Car Journal and CarsOfChange.com, in a statement. "Ever-increasing efficiency is crucial to our driving future, yet efficiency itself is not an attraction for a great many car buyers. Cadillac's Regen on Demand is an inspired example of how technology can increase efficiency while connecting with a driver, enhancing driving dynamics along the way."
Besides the Cadillac ELR technology, other nominees for the award included the Acura Sport Hybrid SH-AWD powertrain; Audi 3.0-liter TDI clean diesel engine; BMW i3 carbon fiber reinforced plastic passenger cell; Ford 1.0-liter EcoBoost engine; Honda Accord plug-in powertrain; Hyundai hydrogen fuel cell; Mazda i-ELOOP brake energy regeneration system; Porsche plug-in hybrid powertrain; and Ram Truck 3.0-liter EcoDiesel engine.