Automotive companies take note – Chinese auto giant BYD, once backed by rich American Warren Buffett to the tune of $232 million, may already have taken away from you a chance to get in on plug in vehicle marketshare somewhere in the world. I say this because, since the last story on them just a few weeks back, a slew of additional announcements from them convinces me they are set on green global domination in both personal transportation and mass transit.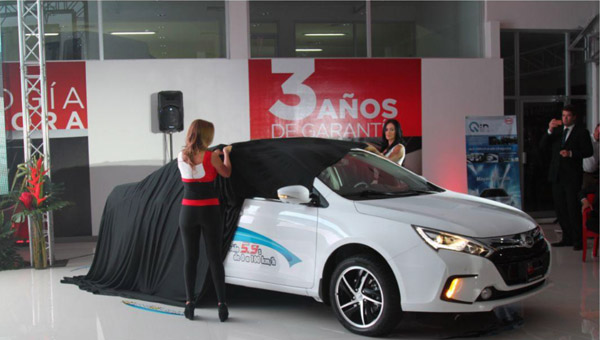 Traveling around the world for a minute BYD style, here's what is going on with the company most recently:
– In Colombia, BYD and Coobus, a public transportation operator in the nation's capital of Bogota, signed a deal to bring 260 standard electric buses to the latter's mass transit fleet. In addition another agreement with Consorcio Express, another public transportation provider, will make Bogota the world's first city that will operate BYD's 18-meter (60-foot) electric bus. Both of these follow on the heels of several successful third party pilots and evaluations of BYD electric buses in Latin America.
– In the United Arab Emirates, BYD chairman Chuanfu Wang won the prestigious Lifetime Achievement Award from the Zayed Future Energy Prize, which is considered the "Oscar" in the cleantech industry.
– In Canada, BYD completed the first phase of a ten month trial of its electric bus in Gatineau, Quebec and Ottawa, Ontario. Evaluations conducted by the Société de transport de l'Outaouais (STO) in conjunction with AVT (the Société de gestion et d'acquisition de véhicules de transport) initially support claims by the electric bus maker that its offering is very efficient to drive and generally able to handle a standard daily operating shift of eight hours. It will next be on trials in Montreal.
– In Costa Rica, it was revealed the new BYD Qin plug-in hybrid, which just recently had been unveiled for sales in China, would begin to be on sale in Central and South America immediately.
– In the United Kingdom, BYD has teamed up with Thriev in London to provide 20 of its e6 electric cars to the latter's chauffeur-driven fleet within the next few weeks. This goes towards a plan outlined by the city's mayor that starting at the beginning of 2018 all new taxis would have to be zero-emission capable in order to gain an operating license.
Now this story is not meant to be a big press release for BYD, but rather to point out the company's aggressive stance in promoting zero emissions vehicles. It is because of this approach it has already landed large orders from the United States and Europe, as well as successful trials in North America, Europe and South America. It already has been very successful as well with operations on its home turf, with electric taxies operating in the city of Shenzhen alone having reached a total running mileage of up to 140 million kilometers and accumulated mileage for its electric buses already over 23 million kilometers.