There's a noteworthy new building on the University of Oregon campus in Eugene and, what do you know, it's not another citadel to big-time college athletics.
With alum and Nike founder Phil Knight often footing the bill, Oregon in recent years has gained a reputation for catering to jockdom, erecting the nation's most expensive on-campus basketball arena and opening something called the Football Performance Center, which the New York Times noted came with "rugs woven by hand in Nepal, couches made in Italy and Brazilian hardwood underfoot in the weight room."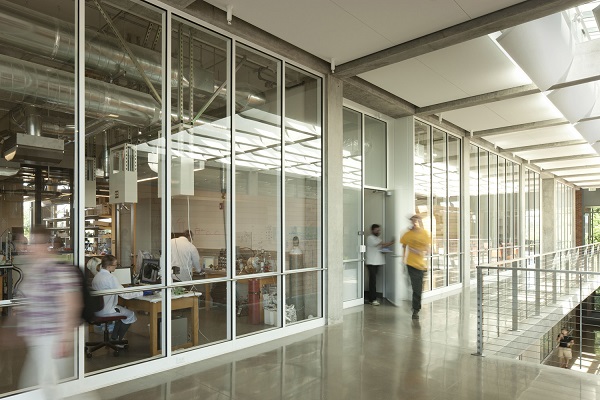 But the Robert and Beverly Lewis Integrative Science Building is "devoted to studying the brain and its functions, specifically cognitive neuroscience, systems neuroscience and genetics research." It also houses solar research and green chemistry programs.
And the building is now LEED Platinum – a rarity in the world of big-time research labs, according to HRD Architecture, which worked with THA Architecture on the design.
"Science buildings present numerous sustainable design challenges that are difficult to solve, mainly because of their complex equipment and stringent ventilation requirements," Regina Filipowicz, senior laboratory planner in HDR Architecture's Portland office, said in a statement. "But due to the University of Oregon's commitment to environmental responsibility, our integrated team was able to develop some truly innovative sustainable strategies – some that I've never before seen in my 26 years as a planner."
Among the features noted by HDR:
waste heat is extracted from a utility tunnel below the site and used to control temperature in laboratories and office spaces;
variable flow chemical fume hoods equipped with automatic sashes close when not in use, minimizing waste;
urinals and toilets take advantage of reclaimed, reverse osmosis-treated water from a neighboring zebra fish research facility;
and an atrium skylight provides natural illumination for the atrium space and neighboring offices.
Add it all up, and the building uses a whopping "62 percent less energy than conventionally designed buildings of similar size and function, with 17 percent of that savings coming from the reuse of waste heat," HDR said.