Better materials, smarter design, Energy Star equipment … all of these things can help in trimming building energy use. But lost in the discussion here is how a building is functioning for the people who occupy it – and the National Renewable Energy Laboratory believes that tapping into knowledge can not only make a building more comfortable, it could result in even further energy savings.
To pull this off, the NREL has developed a software application called Building Agent. A key aspect of the app is that, in addition to collecting temperature, humidity and light readings at work stations, is that it invites more interaction with buildings occupants. That's a big change.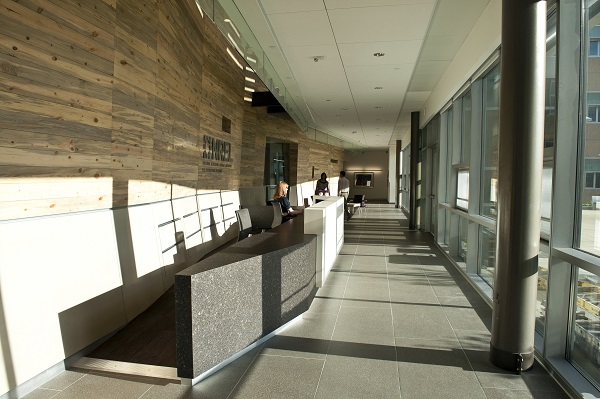 "This goes beyond the kinds of energy dashboards that facility managers might be familiar with," NREL Senior Engineer Larry Brackney said in a statement. "By integrating comfort feedback with traditional measurements, BA ties the notions of comfort and energy performance together in a way that no other application has done. Building occupants become an active part of the comfort and energy tradeoff along with the facility managers."
The NREL in 2012 ran tests of key early elements of the app at its Research Support Facility in Colorado, a building that opened in 2010 with all the energy-efficiency bells and whistles you can imagine. And yet a report [PDF] by the BA team found that people were surprisingly disconnected from the building's operation.
Occupants … expressed confusion about the building systems. When asked about their satisfaction with the thermal controls, 66% of the respondents had never adjusted the controls. Twenty-six percent did not know if they could adjust thermostats, how to adjust them, or where to find them. A question about satisfaction with the air diffusers on the raised floor of the building recorded that 73% of the occupants did not know how to adjust them. The survey asked, "What primary barrier do you see to saving energy in the RSF work environment?" Nineteen percent of respondents reported that they do not have enough control over the building systems.
Now, more than a year later, NREL says BA is in use in several buildings on its own campus, and at the Marine Corps Air Station in Miramar, California.
"With 25% of a building's energy performance directly related to occupant behavior," the NREL believes that pulling together more information to give buidlings managers the info they need to locate problems and react to them "can result in a significant step toward helping buildings become more cost effective and energy efficient."