Rooftop solar leader SolarCity is promoting a new move into solar-tied energy storage systems for businesses, using battery technology from – get ready for this – Tesla Motors.
Well, the fact that Tesla CEO Elon Musk is also the SolarCity chairman, and cousin to its own CEO, Lyndon Rive, might have something to do with this. But the truth, too, is that in order to become the electric car company that it is and wants to be, Tesla has put a fierce amount of attention into developing better batteries.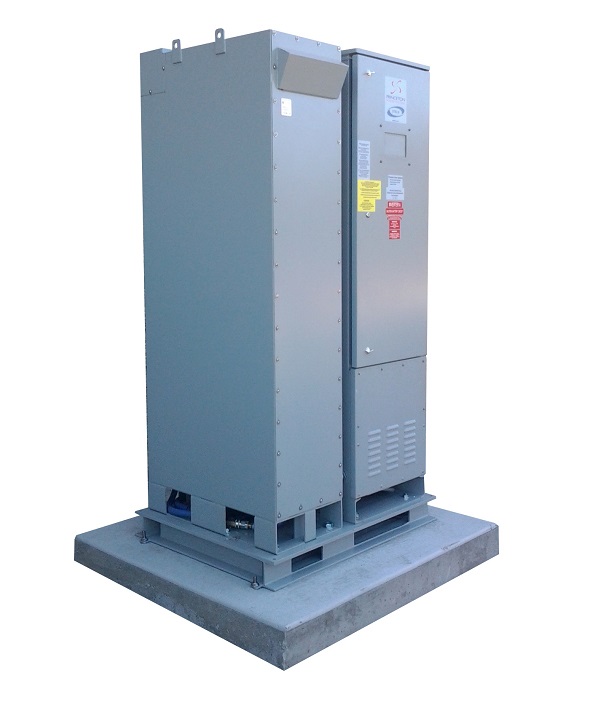 SolarCity is calling this new offering DemandLogic, which gets at its key feature: using energy management (software) and storage (batteries) to trim what can be a costly aspect of energy use, peak demand.
"Utilities have altered their rate structures such that demand charges are rising faster than overall energy rates, and businesses are bearing the bulk of those increases," Peter Rive, SolarCity's chief technology officer and chief operations officer, said in a statement. "Time is money, but so are control and predictability. Our storage systems can give businesses the tools to address all three – delivering immediate savings, protection against escalating demand charges and optional, grid-independent backup power in case of outages."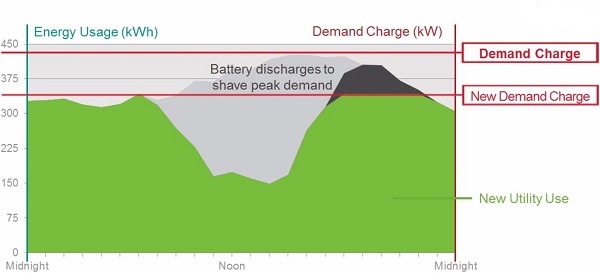 So the scenario is pretty simple: Through late morning and early afternoon, a business's solar power system is cranking at maximum capacity, trimming demand from the utility and charging the battery. In the late afternoon, when energy use tends to reach a high point, solar is beginning to wane a bit – and that's when the battery kicks in and slices a chunk off the peak demand. From the SolarCity release:
SolarCity storage systems are available to new solar power customers through 10-year service agreements including monthly payments, with no upfront cost required. SolarCity will customize the system size to make it possible for businesses to save money immediately by saving more on energy costs than they spend for the storage service. Unlike load shifting approaches to demand management, this product requires no change in operations for the business and is fully automated. SolarCity DemandLogic can also power IT functions, security systems, cash registers and other critical business systems during power outages. SolarCity analyzes each organization's energy usage to design a storage system that can offset peak load and support high priority backup functions.
SolarCity didn't offer specs on the system, but on a Web form that businesses can use to get more information, it asks, "Does your company spend more than $5,000 a month on electricity?" and "Do you have more than 50,000 square feet of usable space for solar?" That sort of space suggests SolarCity sees this working for systems of around 500 kilowatts (the average home unit is around 5 kW) or more. In addition, CEO Lyndon Rive told the New York Times the batteries will be able to store around one-third of the energy produced by the solar array, and that DemandLogic would save companies "around 20 percent" on their demand charges.
SolarCity said the systems will be introduced in California in the service areas of two big utilities, Pacific Gas & Electric in Northern and Central California, and Southern California Edison, as well as in "areas of Massachusetts serviced by NSTAR, and areas of Connecticut served by Connecticut Light & Power."