Turns out that when it comes to buildings, you can teach an old dog a new trick.
The winner of the U.S. government's 2013 Better Buildings Federal Award competition was the Wichita U.S. Courthouse in Kansas, a beautiful, Art Deco and classical Depression-era baby constructed in 1932. According to the U.S. Department of Energy, the building  achieved a 20 percent reduction in building energy intensity – that's energy consumed per gross square foot – over its August 2012 baseline through a range of improvements.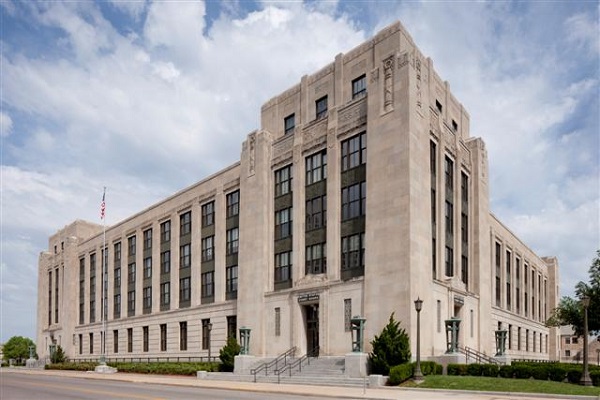 Did they do it by making occupants and users sweat through a hot summer and shiver through a cold winter? Apparently not: The DOE said the building maintained a "satisfaction rate" among tenants of more than 90 percent.
Though the courthouse in Wichita was judged on its past-year performance, the beginnings of its improvement date back to 2010. That year, Recovery Act funds were used to install advanced metering and upgraded air handlers, boilers, chillers and building controls, the DOE said. The subsequent monitoring suggested big efficiency gains were possible with what the department calls "no-cost or low-cost retuning actions" as well as "low-cost energy savings measures." Here's the breakdown on those:
Energy-saving retuning actions:
Static pressure and supply air temperature reset on the air-handling units
Optimal Start for all air-handling units
Zero minimum outside air when AHUs operate during unoccupied periods
Seasonal manual adjustments to chiller and pump valves
Energy-savings measures:
Integration of chiller control with the building automation system which allowed chillers to be scheduled "as needed" rather than run on 24/7 schedule during the summer cooling season. This modification also enabled the BAS system to control chilled water temperature reset thereby providing additional savings during non-peak cooling months
Installation of timer controls on parking garage air handling make-up air and exhaust fans not controlled by the BAS system allowed the building staff to synchronize the garage AHU operation with tenant occupancy and thereby reduce unnecessary after-hours equipment usage
Reduced run times of building exhaust fans by adjusting existing timers
Installed digital timers on parking garage lighting circuits, allowing more precise timer control while reducing hours of illumination
Installed LED bulbs on several lights that are on night light circuits.
Altogether, the improvements led to a $40,000 reduction in the building's utility bills during the competition period, the DOE said. No word on exactly how much it costs to attain those improvements.