GM's Chevy Volt, for those who don't know, is also driven over in Europe under the Opel brand. There it is known as the Ampera and, as the extended range electric vehicle passes through two years of production, it is setting some trends and capturing some marketshare in a part of the world where green vehicles are gaining traction, if slowly.
Owners of the Ampera are said to have logged a total of 100 million kilometers on pure electric power, according to Opel, with total numbers of ownership being around 7,700 to date. These numbers are good enough to rank the car in third place
among European e-car registrations with a market share of almost ten percent. In the Netherlands – Europe's largest and most important market for electric cars – the Ampera is the undisputed leader with an impressive market share of 40 percent. In Germany – the only major market for electric vehicles in Europe without incentive programs – its market share has grown to a remarkable ten percent.
In terms of environmental driving considerations, Opel noted a study from the Netherlands indicated Ampera drivers "achieved figures substantially lower than the EU standard fuel consumption level (1.2 liters fuel per 100 km, 27 g/km CO2)." Furthermore, these drivers have been able to prevent 13,000 tons of local CO2 emissions entering the atmosphere.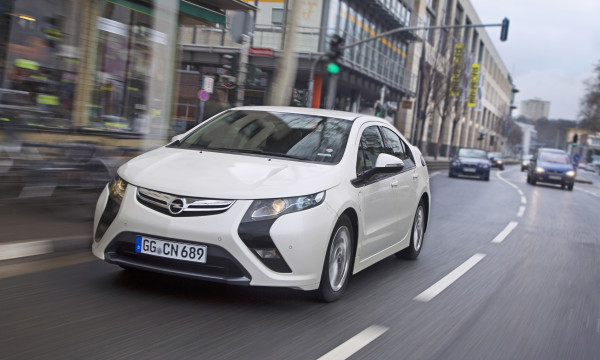 One customer example of this environmental efficiency is Dutchman Benny van Wijngaarden, who drives roughly 25,000 km annually while using just 0.9 liters of gasoline per 100 km. He is topped, however, by Belgian Franky Van Liedekerke, who uses only 0.5 liters per 100 km while covering almost 15,000 km annually. Both are among those who drive the Ampera "more than three-quarters of their total mileage on pure battery electricity without requiring assistance from the Ampera's range extender."
"The Opel Ampera was the first electric vehicle on the market from a European manufacturer," said Opel CEO Dr. Karl-Thomas Neumann in a statement. "Two years later, we remain committed to our strategy of providing sustainable mobility. We will continue investing in electric propulsion and believe in an emission-free automotive future – not only tomorrow, but also today."