Being one of the first to cross a certain milestone often gets you nothing, but sometimes it might also get you some recognition and a moment in the sun. Such is the case for one Steve Marsh of Kent, Washington, who recently found himself sharing the limelight with Washington state governor Jay Inslee and also Marsh's Nissan Leaf to mark crossing 100,000 all-electric miles driven in the car.
Marsh, according to Nissan, purchased the Leaf back in early 2011 for his 130-mile round trip daily commute. The man was one of the first to take delivery of a Leaf in Washington, and also managed to convince his employer, a shellfish company, to install a electric car charging unit for public use at its office.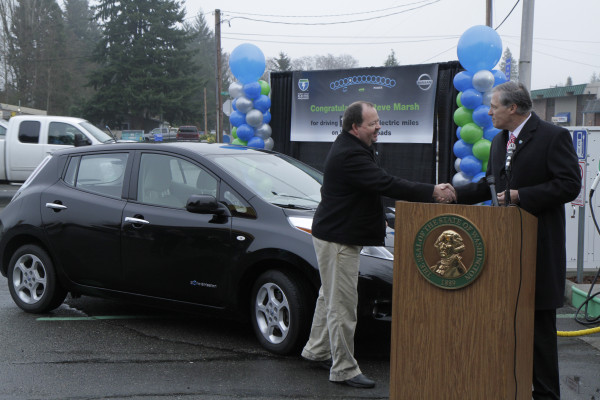 "I've saved more than $9,000 compared to my old gas-powered car since I bought my Leaf," said Marsh in a statement. "With plenty of public charging options, as well as a charger installed at my office, my LEAF is a perfect car for my commute.
Washington is something of a hot bed for electric car ownership, with more than 5,000 plug-in vehicles registered there. In large part because of abundant hydropower, the state has one of the cheapest cleanest supplies of electricity in the country, making it an ideal place to have an electric vehicle.
"Steve Marsh has proven that it's possible to drive an electric vehicle long distances on Washington's roads using clean, low-cost electricity," said Gov. Inslee. "His dedication to driving electric helps to foster economic growth, reduce our dependence on foreign oil, reduce carbon emissions and preserve our environment for future generations."