Mayor Bloomberg [recently] announced that the city's largest solar energy installation is to be built, a move that will increase the city's renewables capacity by 50%.
The state-of-the-art solar power station, which will produce enough energy to power more than 2,000 homes, is to be built in Freshkills Park on Staten Island. Around 47 acres of the parkland will be leased to the company SunEdison to build and operate the system.
Mayor Michael R. Bloomberg made the announcement at Freshkills…along with Parks Commissioner Veronica M. White, Sanitation Commissioner John Doherty and Director of the Mayor's Office of Long-Term Planning and Sustainability Sergej Mahnovski. They were joined by Borough President James Molinaro, Assembly Member Michael Cusik, Assembly Member Matthew Titone and Atilla Toth, General Manager for SunEdison.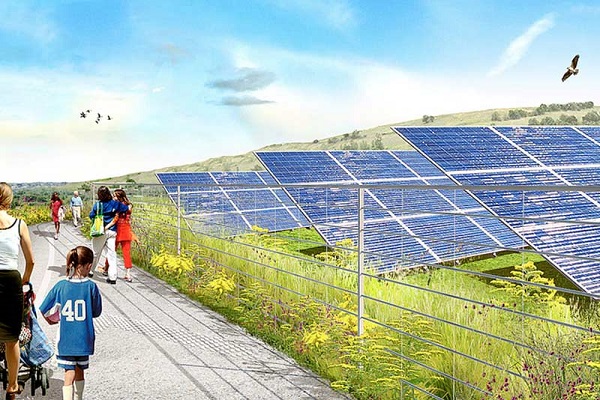 Mayor Bloomberg said: "Over the last twelve years we've restored wetlands and vegetation and opened new parks and soccer fields at the edges of the site. Thanks to the agreement today we will increase the amount of solar energy produced in New York City by 50% and it is only fitting that Freshkills, once a daily dumping ground, will become a showcase urban renewal and sustainability."
Increasing renewable energy and cutting greenhouse gas emissions are two key elements of PlaNYC, the city's sustainability strategy. NYC Deputy Mayor for Operations Cas Holloway, commented: "Developing solar energy on Freshkills Park shows that large-scale renewable energy projects are possible in New York City, but this is only a first step. If we are serious about meeting New York City's tremendous energy needs from renewable sources we need the State and federal governments, as well as our utility partners and others in the private sector, to work with us to make solar and other renewable energies easier to develop, install, and access the energy grid."
"The goal of having a cleaner energy supply in New York City has always required projects as bold as the vision itself. This unprecedented solar project will be the largest in New York City and will help us understand how renewables can integrate into our energy networks at a much greater scale, and sends a signal to the market place that renewable energy is both achievable within the city, and that it will continue to grow and become a major component of New York City's energy supply," said Sergej Mahnovski, Director of the Mayor's Office of Long-Term Planning and Sustainability. He added: "This project will also push existing regulations to their boundaries. Interconnection with the utility system will have to be clarified, State programs aimed at increasing renewable energy will have to be expanded, and landfill post-closure care will have to be rewritten; and these are only a few of the challenges ahead. But this is a necessary undertaking in order to shift our power sector to a cleaner, more reliable energy future."
"Promoting solar energy is a critical component of our goal to make New York City more sustainable and resilient over the long term," said New York City Economic Development Corporation President Kyle Kimball. "With [this] announcement, this Administration is, once again, reactivating underutilized land in an innovative way that will help the City thrive for years to come."

Editor's Note: EarthTechling is proud to repost this article courtesy of The Climate Group.