A decision by the Obama administration to extend the duration of permits that allow for the incidental killing of limited numbers of bald and golden eagles by giant wind turbines is raising a ruckus – even among some conservationists who agree that wind power development is necessary to combat global warming, which they see as a larger threat to wildlife.
The controversy revolves around the Bald and Golden Eagle Protection Act. The law bars the "take" – basically, killing – of the birds, but it also gives the Department of the Interior leeway to allow for incidental bird deaths under either individual or programmatic permits, which come with myriad limitations and mitigation demands. Under a 2009 U.S. Fish & Wildlife Service rule [PDF], the programmatic permits for wind farms would last for five years – short enough that if things went awry and more birds were being lost than expected, changes could be made. The wind industry, however, said five years was too short to give investors confidence in projects, and pushed for 30-year permits.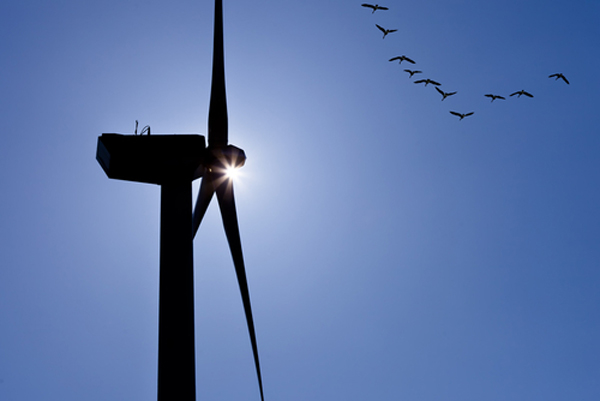 By publishing a final rule [PDF] this week that extends the permits to 30 years, the administration ostensibly came down on the side of the industry.
It's a fine line the administration is trying to thread on the wind/bird issue, encouraging renewables while safeguarding wildlife. Just two weeks ago, the administration had completed the first prosecution of a wind power company for killing golden eagles without a permit, extracting $1 million in fines from Duke Energy. Nonetheless, the new permit rule has some conservationists infuriated.
The Audubon Society, which has a policy of supporting wind power while pushing for careful siting of projects, published a statement under the headline: "Interior Dept. Rule Greenlights Eagle Slaughter at Wind Farms, Says Audbon CEO." Audubon President and CEO David Yarnold went on to say:
Instead of balancing the need for conservation and renewable energy, Interior wrote the wind industry a blank check. It's outrageous that the government is sanctioning the killing of America's symbol, the Bald Eagle. Audubon will continue to look for reasonable, thoughtful partners to wean America off fossil fuels because that should be everyone's highest priority. We have no choice but to challenge this decision, and all options are on the table.
The American Bird Conservancy, which has taken a somewhat harder line on wind farms, was, strangely enough, more circumspect, saying the rule "may mark a setback in protecting bald and golden eagles, two species that have inspired Americans for centuries."
The administration insisted the 30-year permits will be anything but a blank check, and instead would bring more companies into a process that can protect eagle populations but is only now closing in on issuing its first permit. From an Interior Department statement:
All permits will be closely monitored to ensure that allowable take numbers are not exceeded and that conservation measures are in place and effective over the life of the permit. Steps taken today will increase transparency and accountability by making annual reports and five-year compilations of eagle fatalities available to the public.
In a statement, the wind industry applauded the decision – but tried for a conciliatory tone, as well:
The American Wind Energy Association (AWEA) welcomes the U.S. Fish & Wildlife Service's (FWS) final rule to extend the total maximum duration of take permits allowed for under the 2009 Eagle Permit Rule. However, this rule must only be a first step in creating a rational and effective approach to eagle permitting, and we look forward to working with FWS, the Department of Interior, and our partners in the conservation community to address additional permit program concerns through future revisions to the Permit Rule.