When you think back to the boom boxes popular in the 1980s, images of guys walking down the street with large metal boxes on their shoulder pumping out music for all to hear come to mind. One entrepreneur on the crowdfunding source website Kickstarter is looking to recapture that retro trend, albeit with a clean energy edge in mind.
The ZingBox is a solar powered boom box that cuts out the need for the eight D batteries you used to need for one of these devices. Two high quality solar panels sit atop the gadget, harvesting enough energy over time to charge the 7Ah, 12V battery that can offer up enough juice for up to eight hours of playback.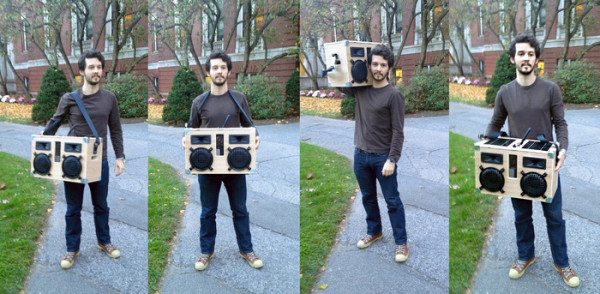 Key audio features of the ZingBox include a very efficient 2x15W Class D amplifier, two piezo horn tweeters and two high SPL (high efficiency) 6.5″ woofers. It is able to play audio up to 106 dB, which is said to be as loud as a nearby car horn or chainsaw. All of this comes out of a frame which measures 20″ wide x 13″ tall x 10.5″ deep and weighs around 30 pounds.
Beyond the audio, other features of note include playback support via audio input for any portable audio device (i.e. iPhone) with a headphone jack, double duty tuned acoustic ports/carrying handles and a van seatbelt carrying strap.
The maker of these audio devices, a MIT trained mechanical engineer who's doubled as a karaoke DJ and built his first solar powered boom box back in 2009, is planning a limited run of 25 hand built units. Most of these will be available by the spring of next year, with a price ranging around $550.