There's something profoundly boring about a drugstore, with its predictable array of necessities. And the lonely photo section. Man. At best, you find what you need at a drugstore.
Credit, then, to Walgreens for putting a 21st century green spin on its outlets. Solar power and electrical-vehicle chargers have been a focus for a few years now, and this week the chain went so far as to open a net zero store, in Evanston, Illinois. They're calling it the nation's first net zero energy retail store; the expectation is that it will use 200,000 kilowatt-hours of electricity a year while producing 220,000 kWh.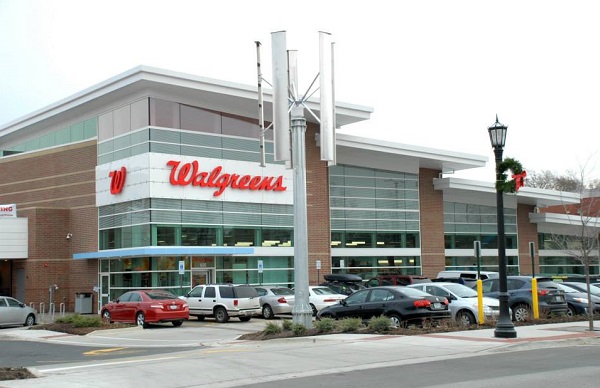 A whole bunch of different technologies are at play in producing that energy. Ironically, the most visible of the technologies is probably the least important. That would be wind power, in the form of a couple of vertical-axis turbines right out in front of the store. The company says the "35-foot-tall wind turbines" will use "Lake Michigan breezes to generate enough power to offset annual greenhouse gas emissions from 2.2 passenger vehicles."
According to a U.S. Environmental Protection Agency calculator, that equates to total annual wind production of 15,000 kWh of electricity at the store, less than 7 percent of the total energy expected to be generated onsite (and that's assuming the wind turbines come through with that much energy; pardon me for being skeptical, but vertical-axis turbines often don't).
More significant: the "850 roof-top solar panels, generating enough energy to power 30 Illinois homes for a year."
A geothermal heating and cooling system will trim energy consumption, as will LED lighting and lots of smartly positioned windows ("daylight harvesting," in the vernacular).
According to Walgreens: "The store is seeking platinum certification through the U.S. Green Building Council LEED program, Net Zero Certification through the Living Building Challenge, and has received GreenChill platinum certification through the U.S. EPA. GreenChill's Store Certification Program was designed for supermarkets, and this is the first time a GreenChill certification is being awarded to a small-format store, such as a convenience store or pharmacy."