The rough waters of wave energy aren't just the ones out in the ocean: All indications are that every project in the nascent sector is an engineering, regulatory and management challenge of immense proportions (witness Ocean Power Technologies' wayward Oregon project).
Given that, an Alaska wave energy project we reported on early this year has taken an understandable turn: Ocean Renewable Power, the company that successfully got a tidal power device in the water and hooked to the grid in 2012 in Maine, has come aboard.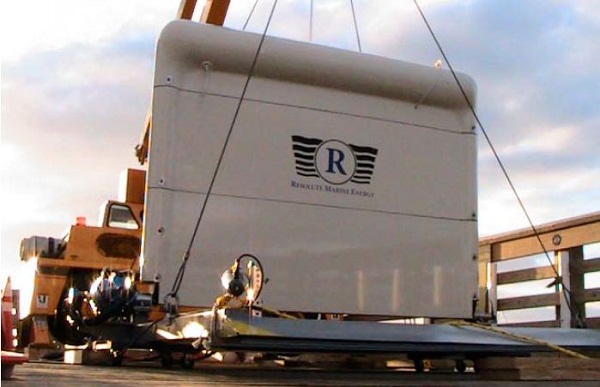 ORPC said its services subsidiary ORPC Solutions would provide "project management and regulatory affairs services" to Resolute Marine Energy's Yakutat Wave Energy Project, which aims to place seven to fifteen of its SurgeWEC wave energy converters in the waters off Yakutat, Alaska, in the southeast part of the state, providing a total of 750 kilowatts of generating capacity to the town. The idea is that pulling energy out of the town's strong wave resource could unshackle it from diesel fuel that has to be barged up from Washington state at great cost.
"ORPC's demonstrated success in permitting marine hydrokinetic projects and the company's strong relationships with regulatory agencies will be of great benefit as we move from preliminary to final permit status and start deploying our wave energy converters in 2015," RME Co-Founder and CEO Bill Staby said in a statement.
RME's SurgeWec is in the category of oscillating wave surge converter. It consists of a big, flat paddle that moves back and forth as the waves come through. Hydraulic force is used to generate power, which is sent ashore via a cable. Aquamarine Power, in the U.K., has a similar device in development, called the Oyster.
These devices are ideal for the enhanced water movement that takes place in fairly shallow, near-shore coastal waters. In its application to move ahead with the project, RME had explained that given the modest electricity needs of Yakutat, "it is unlikely that a deepwater wave power conversion plant would make economic sense …. It was therefore decided to apply focus on near-shore technology," where energy transmission costs would be minimized.
As for ORPC's main project, the Cobscook Bay Tidal Energy Project, in July the company pulled the turbine generator unit from the water – as it had before after initial deployment – to work on "an electronics issue," according to a filing with the Federal Energy Regulatory Commission. The company said the TGU would be out of the water for "several months to a year" as it takes advantage of the opportunity to "proceed with significant engineering improvements with the TidGen Power System."