Back in April, when Facebook pegged Altoona, Iowa, as the site for a new data center, it said "an abundance of wind-generated power" in the area was a reason. Now the social media behemoth says it expects the data center "to be supplied by 100 percent renewable energy, as tracked by renewable energy certificated, from a new wind project in nearby Wellsburg, Iowa."
This Wellsburg project is one of the five big new wind farms that MidAmerican is building that will add 448 turbines and 1,050 megawatts of wind power capacity in Iowa by 2016. Notably, the projects will also boost Iowa manufacturing – the Siemens factory in Fort Madison will make the blades for all five wind farms.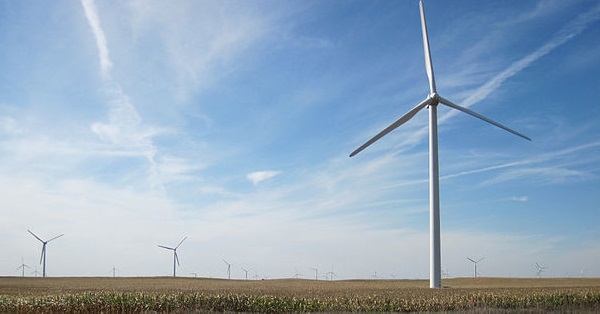 Facebook said that it began working on the 138-MW Wellsburg wind project, in Grundy County, with RPM Access even before it landed on Altoona as the data center site (a site in Nebraska was also considered, but Facebook apparently liked the wind possibilities in Iowa better). "Earlier this spring, we transferred our rights to the development to MidAmerican Energy, our local utility, to build, own, and operate it," Facebook's data center energy manager, Vincent Van Son, wrote in a release.
Facebook's action at Iowa should satisfy the data center watchdogs at Greenpeace, who had wondered if the company would "use its influence and buying power to get Iowa's major utility, MidAmerican Energy, to provide more clean energy to the grid." Clearly it has.
Combine that with a super-efficient operation, and the data center figures the wind from Wellsburg will match its Altoona energy usage when it begins operating in early 2015.
Wellsburg "makes it possible, on an annualized basis, for 100 percent of our energy needs to be met entirely with one of Iowa's most abundant renewable resources," Van Son wrote. "We are committed to reaching 25 percent clean and renewable energy in our global data center mix in 2015, and we will continue to work with utilities and other partners on supply options for our other data centers."