Waste Management, the big trash collection and disposal company, is building a plant that will turn landfill gas into natural gas that will go into the central and southern Illinois pipeline, and be used to power some of the company's vehicles that run on compressed natural gas.
This isn't a completely new use of the methane-rich gases that are created when trash decomposes in a landfill, but it's not exactly typical, either. More commonly, landfill gas is used to power engines or turbines for electricity production – as at a Waste Management facility in Michigan that we wrote about in 2011 – or processed for direct use in industrial boilers or dryers or the like. But processing it into high-Btu gas can yield what Waste Management likes to call "renewable natural gas."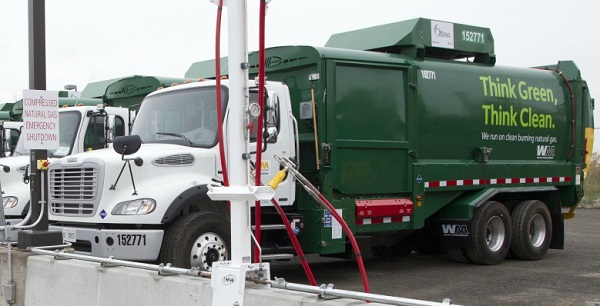 The facility being built in Fairmont City, Ill., near the Milam Landfill in nearby East St. Louis (right across the Mississippi from St. Louis, Mo.), will be able to process the equivalent of 105 million Btus per hour – "as much gas as it takes to fuel about 400 of Waste Management's CNG collection trucks each day," Waste Management said.
Waste Management said it has 134 projects that use landfill gas, and they produce "the equivalent of more than 680 megawatts of power capacity." The Milam Renewable Natural Gas Facility, which is expected to begin feeding natural gas into the Ameren Illinois natural gas pipelines in late summer 2014, will be the third to take the landfill gas all the way to natural gas. According to the company [PDF]:
In California, Waste Management has collaborated in the world's largest plant to convert landfill gas to ultra-low-carbon liquefied natural gas (LNG). The greenhouse gas emissions associated with this fuel are more than 80 percent lower than those of diesel. It's the cleanest fuel available for heavy-duty trucks today. The facility produces 13,000 gallons of LNG per day and helps to power the company's fleet in California. In Ohio, the company processes about 3,000 SCFM of landfill gas and delivers it to a natural gas pipeline.
According to the U.S. Environmental Protection Agency, municipal solid waste landfills are the third-largest source of human-related methane emissions in the U.S.; in 2011, they accounted for 17.5 percent of such emissions. In addition to significant greenhouse gas emissions benefits, Waste Management says the Illinois project should result in a 60 percent reduction in emissions of carbon monoxide, nitrogen oxides, and particulate matter.