Big U.S. companies and their big roofs continued to become the home for more solar power in the past year, with a new report showing the top 25 companies increasing their installed capacity by 48 percent, to 445 megawatts.
The report, from the trade group Solar Energy Industries Association and the solar advocacy Vote Solar, once more put Walmart at the top of the heap, with 89 MW (last year it was the leader with 65 MW). Here's the list of the top 25: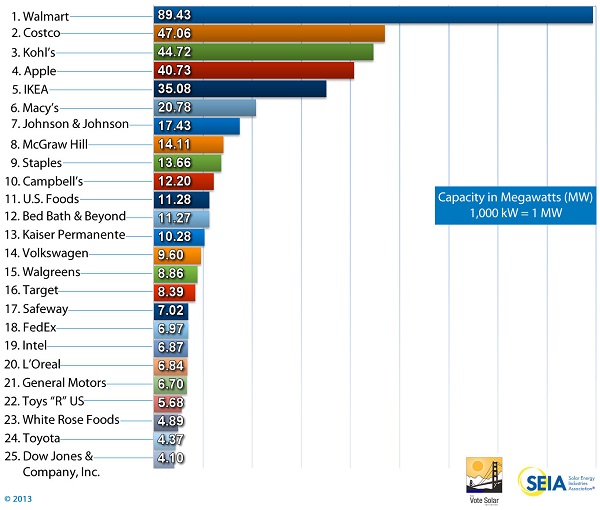 Along with Walmart's continued top-dog status, the list this year looks a lot like last year's, with the likes of retailers Costco, Kohl's, Ikea and Macy's showing big totals. But there is one significant change to the list: the addition of Apple. From out of nowhere, the company leaped into the top 5, landing at No. 4 with 41 MW. The bulk of that comes at the company's Maiden, N.C., data center – and Apple has more solar power on the way in Nevada.
After Apple, Walmart appeared to be the biggest gainer over the past year, with its 24 MW of new capacity. Ikea also was busy during the year, putting up nearly 14 MW of new solar. Of course, Walmart has a big advantage over Ikea: It has more than 4,000 retail outlets in the United States – so its 200-plus installations represent just 5 percent of facilities. Ikea has pretty much used up all its available space, with 89 percent of facilities already solar-equipped – a fact highlighted by the company's recent announcement that it would quickly take advantage of a store expansion in Massachusetts to add another 300 kilowatts of panels there.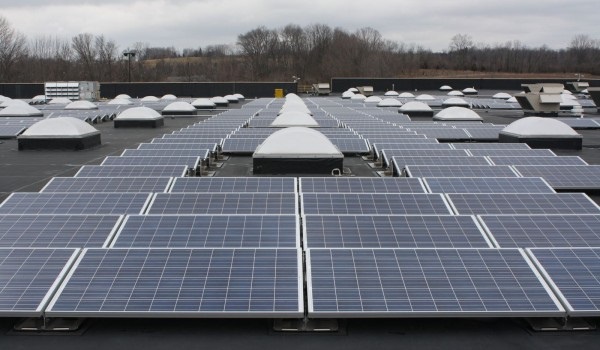 Vote Solar and SEIA said solar deployed in the commercial solar sector was at 3,380 MW, up 40 percent over a year ago, and said this showed that companies were finding solar a benefit to their bottom line. Interestingly, that growth rate was actually slower than the overall solar PV growth in the U.S., which was up 72 percent from Sept. 30, 2012 to Sept. 30, 2013, from 5,161 MW to 8,858 MW, according to SEIA reports.