The new National Renewable Energy Laboratory report on solar soft costs really brought home the absurdity of the permitting, inspection and interconnection (PII) problem that U.S. solar power is facing.
True, there are plenty of reasons Germany has way more solar than the U.S., not least of them the country's long history of generous support for solar installation. But simply installing a system is far cheaper in Germany and one of the major reasons is PII.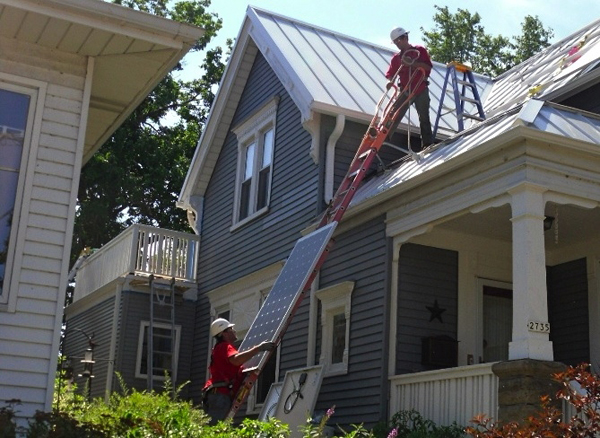 According to a new National Renewable Energy Laboratory analysis [PDF]:
Germany has an approximately $2.00/W PV price advantage over the United States. While this cost differential can be attributed, in part, to variation in federal policies, greater U.S. permitting, inspection, and interconnection costs contribute as well. German permitting requirements are minimal compared to many parts of the United States. The feed-in tariff registration form, which enables grid-connected solar residences to receive federal incentives, is the only German paperwork required for PV systems. Typically, this form takes as little as five minutes to fill out and is conveniently submitted online.
So Germans have one form to fill out. Good for them. But how much harder and costlier could it really be in the United States?
[M]ost U.S. authorities having jurisdiction (AHJs) require a combination of engineering drawings, building permit, electrical permit, design reviews, and multiple inspections before approving a PV installation…. As a result, it takes on average only five labor hours for German installers to complete the permitting, inspection, and interconnection process for residential PV, compared to 19 labor hours for U.S. installers.
But that's just the labor cost aspect of a project. There's also permitting fees that add an average of 20 cents per installed watt, so there's another $800 on a 4-kilowatt system.
The good news is that the NREL and the Obama administration's SunShot program recognize that PII costs are too high and are hurting solar's growth, and the NREL's new road map to reaching SunShot's aggressive solar cost-reduction goals includes bringing down PII costs. Five areas are specifically targeted:
(1) standardization of requirements;
(2) transparency of requirements, both of which reduce the time installers spend determining jurisdiction specific permitting processes;
(3) online permit application submittal, which reduces travel and wait time at the permitting office;
(4) lowering market-wide average permitting fees from $430 to $250, which decrease fixed permitting costs;
and (5) interconnection best practices, which reduce labor by lowering application expense and wait time.
The bad news is, the NREL says "A plausible cost-reduction pathway for achieving the roadmap PII target is not immediately apparent." And it further states: "[B]ecause reducing PII costs to target levels depends on regulatory and policy reform, reaching the roadmap PII target is highly uncertain. Additional PV cost reductions will likely need to be achieved in other soft-cost areas to meet aggregate SunShot targets."