Normally, a snake is the last thing I want to encounter when exploring in the woods. A very special "snake" recently spotted in Werribee, Australia, might convince me to change my mind, however.
It's actually an elevated footbridge that winds through the forest canopy like, you guessed it, a snake.  Inspired by the venomous eastern brown snake, the bridge is painted in uniform brown tones in top with an underbelly of bright orange. Designed by Group GSA, the bridge is designed to help visitors explore the forest canopy without disturbing the ecosystem below.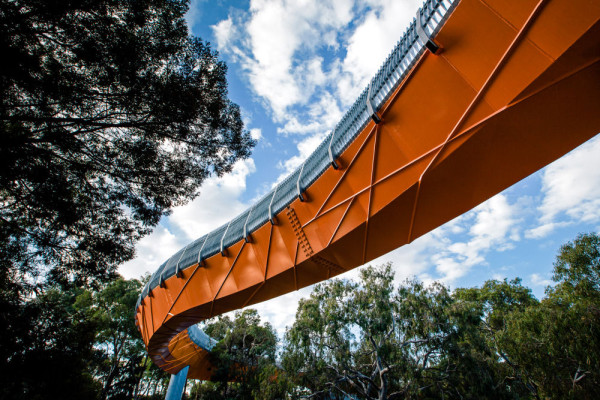 Erected on carefully placed pylons, the pedestrian bridge winds and loops its way through the leafy fronds of the red gum tree canopy. "The purpose of the new bridge is to encourage a heavier footfall from the retail hub of Werribee to Wyndham Park, a generous recreational facility with barbeque and picnic facilities, giving pedestrians an additional option to access these public amenities," writes World Architecture News.
The bridge allows a high volume of visitors to make their way from one open space to another, with minimal impact on the trees, river bank, and wildlife below. Suspended high above the air, the pedestrians can look but not touch, often the best way to enjoy nature.
Careful thought was also given to using as few resources as possibly in the bridge's construction. "Costs on the scheme have been kept to a minimum by reducing the steel plate thickness, made possible by extending the standard steel box truss the length of the side flanges alternating on either side. By combining this with the plan curve the structure was strengthened, meaning thinner steel plates could be used," explains Group GSA.