Walmart, despite the bad rap it gets for a range of practices, is in some ways a sustainability leader in the retail space. It mostly gains this title from its vast solar rooftop efforts, but could some of its roofs also be used to literally be green? There's an experiment going on around this in Portland, Oregon, where it has partnered with Portland State University to collect in-depth data on what's considered the largest green roof installation in the area.
A little over a year ago it was announced a 40,600 sq. ft. eco roof would be installed atop a planned 90,000 sq. ft. Walmart store. Green roofs such as this are important in that they can help a building mitigate both stormwater runoff and energy costs. Exactly how well this works on such a large installation is part of the focus of the planned two year study between the university's Green Building Research Laboratory and the retail giant.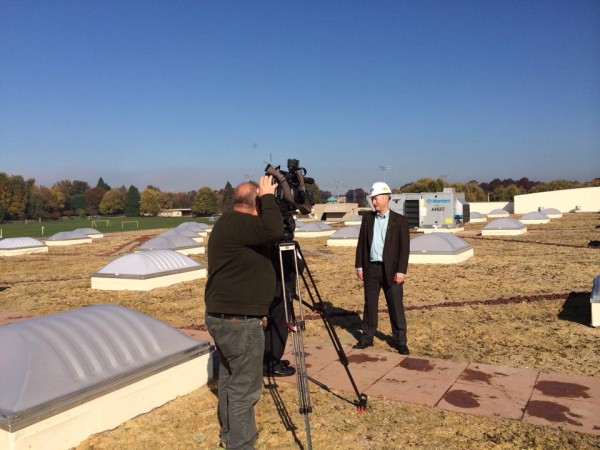 Researchers will deploy scores of sensors and a weather station across the three sections of vegetative roof that's been installed, with each area being devoted to testing different aspects of green roof design, such as materials and soil depth. The remaining roof space, meanwhile, will also be monitored by sensors to deliver "side-by-side comparisons on factors including surface temperature, water flow and building operations."
Other entities will be studying the green roof impacts as well, according to the university. These include the city of Portland's Bureau of Environmental Services measuring stormwater runoff; the Cadmus Group, an environmental consulting firm, monitoring the performance of the rooftop air conditioning units and the Audubon Society of Portland conducting bird count surveys to contribute to the habitat monitoring portion of the study.
"The data we collect will help the green building industry improve upon the many benefits provided by green roofs—from reducing heat island effects to improving overall building performance," said David Sailor, director of the PSU Green Building Research Laboratory and professor of mechanical engineering, in a statement. "This research project will lead to better green roof design for buildings around the world."
Plans also call for all of this collected information to be compared to a similar installation atop a Walmart in Chicago, "providing a comprehensive view of green roof performance in various conditions."