Believing it will help keep the grid stable while easing the way for more renewables, California energy regulators on Thursday approved a plan that requires its three big investor-owned utilities to put in place a growing amount of energy storage capacity.
The Public Utilities Commission mandate [PDF], approved at a meeting in Redding, calls for Pacific Gas & Electric, Southern California Edison and San Diego Gas & Electric to "procure energy storage resources" totaling 1,325 megawatts by 2020 and have it installed by the end of 2024.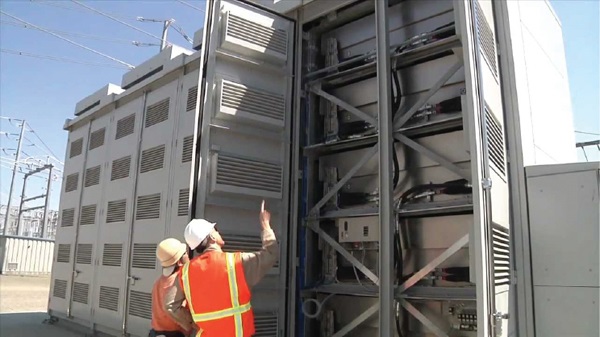 In a state where peak demand in recent years has approached 50,000 megawatts [PDF], this might not sound like much (and remember, we're talking about 1,325 MW here, not megawatt-hours). But beyond pumped hydro – which, by the way, won't count toward meeting the new requirement if over 50 MW in size – there's hardly any utility-scale storage now in existence. And the hope is that requiring the utilities to add storage will speed the development and lower the cost of evolving technologies, such as batteries and molten-salt storage – a hope echoed by supporters of the mandate, who celebrated its enactment.
"Today's decision will spark new ideas and storage methods that can move us out of a destructive energy system and into a safe, healthy, and efficient system of renewable energy," Evan Gillespie of the Sierra Club's Beyond Coal Campaign said in a statement. "The proposed energy storage targets are a great beginning, and we look forward to working with the CPUC to ensure utilities will not simply meet but exceed these targets."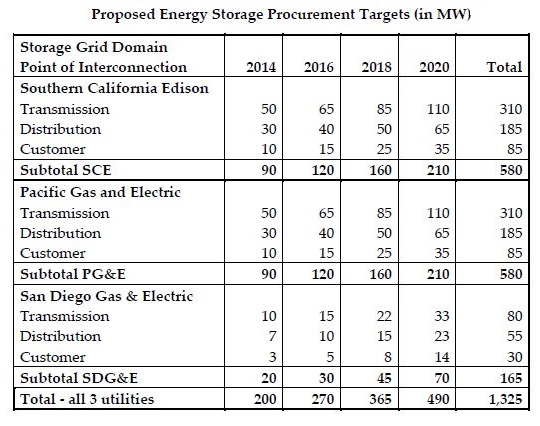 Driving the move for more storage is the state's aggressive renewable portfolio standard, which requires the utilities to source one-third of their electricity from renewables (not counting big hydro) by 2020. So far, the state has had little trouble keeping the grid up and stable as wind and solar have grown, but the integration challenge does become more challenging as renewables become bigger pieces of the energy pie.
The mandate requires 200 MW of storage in place in 2014, but the utilities have a bit of a jump-start on that, with projects under contract or installed after Jan. 1, 2010, counting toward the total. For instance, earlier this year, PG&E launched the 4-MW Yerba Buena Battery Energy Storage System Pilot Project in San Jose.