A 15-megawatt solar power plant isn't huge, not by California desert standards, where such plants can be ten times or more that size. But for Hawaii, a newly announced project of that size is a big deal indeed.
The Hawaii plant, to be built by SolarCity for Hawaiian Electric, will be the state's largest utility-scale solar project and will trim annual oil use by 1.8 million gallons per year while saving $64 million over its lifetime, according to the companies behind it. (That's right, oil use. Hawaii, remember, overwhelmingly relies on oil to generate electricity, which is what makes its power so expensive.)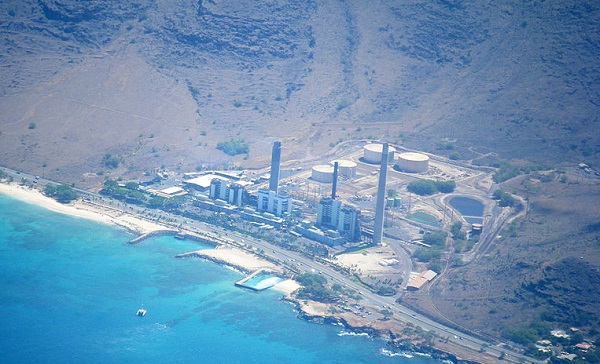 "This is a unique opportunity to make a difference for all of our customers because it allows us to quickly develop more low-cost clean energy," Ron Cox, Hawaiian Electric vice president of power supply, said in a statement.
SolarCity as the developer is kind of interesting. The company is the leading residential solar developer in the United States. Utility-scale mainland projects we write about usually go to the likes of companies that focus primarily on that sector, like First Solar and SunPower. But SolarCity, which was selected through a competitive procurement process, appears to be carving out a utility-scale niche for itself in Hawaii. Earlier, it had been selected by Kaua'i Island Utility Cooperative to build a 14-MW solar power plant 67 acres near the town of Koloa.
"Hawaiian Electric's project is living proof that solar power can protect Hawai'i's environment and strengthen its economy at the same time by providing clean energy less expensively than power generated from fossil fuels," Jon Yoshimura, SolarCity's regional director in Hawaii, said in a statement.
SolarCity said the Oahu project, assuming it's approved by regulators, will be go on undeveloped land at the Kahe Generating Station. SolarCity, with local operations in Mililani, was selected through a competitive procurement process to construct the project, which will be owned and operated by Hawaiian Electric.