In the world of retail, Walmart is a behemoth. Few big box stores can rival its buying power, or its horrifying impact on the environment, local economies, and worker's rights. On the flip side, however, when a giant like Walmart decides to make a positive change, ripple effects can be felt around the world.
Facing lots of pressure and negative publicity, Walmart is making an effort to clean up its act. Just last week, the company held its Global Sustainability Milestone Meeting, and highlighted progress made with the Sustainability Index, a measurement system used to track the environmental impact of its products. To date, the Index has been applied across 200 product categories, and to more than 1,000 suppliers. By the end of this year, Walmart expects the Index will expand to include more than 300 product categories and as many as 5,000 suppliers.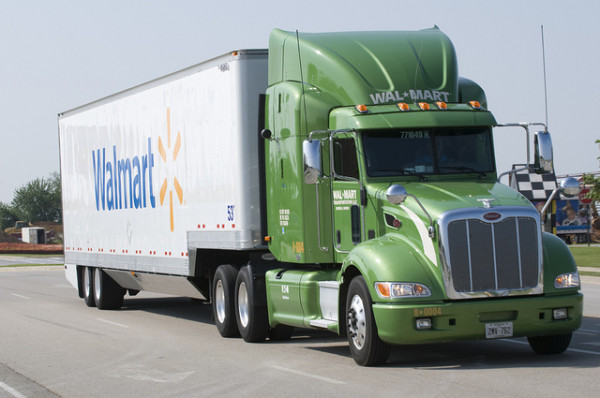 During its recent Milestone Meeting, the company also outlined key initiatives where it can use its size and scale to help address "hot spots" and accelerate progress in supply chain sustainability. Although it doesn't change the fact that Walmart peddles low quality goods and fails to pay employees a living wage, the sheer amount of waste generated by a company of its size means that any improvements are worth noting.
Moving forward, the company is focused on the following five initiatives:
1. Increasing the Use of Recycled Materials – The company is working with cities to increase plastic recycling and with suppliers to increase the use of recycled content and make packaging more recyclable. Earlier this week, Walmart and Sam's Club also announced a smartphone trade-in program in the U.S. that goes into effect on Sept. 21. The company says it will not send these trade-ins to landfills, domestically or internationally, potentially saving hundreds of thousands of smartphones from landfills annually.
2. Offering Products with Greener Chemicals – With the debut of its Consumables Chemicals initiative, Walmart aims to reduce or eliminate the use of priority chemicals (aka the really dangerous ones) used in consumables products in favor of greener alternatives. In addition, starting in Jan. 2014, Walmart says it will begin to label its private brand cleaning products in accordance with the U.S. Environmental Protection Agency's recommended Design for the Environment (DfE) Safer Product Labeling program.
3. Reducing Fertilizer Use in Agriculture – Walmart requires suppliers who use commodity grains, such as corn, wheat and soy in their products, to develop a fertilizer optimization plan that outlines clear goals to improve performance based on Index research. Through this program, the company and its suppliers hope to reduce fertilizer use on 14 million acres of farmland in the U.S. by 2020.
4. Expanding the Sustainability Index to International Markets – Walmart Chile and Walmart Mexico will launch the Index in their respective markets in 2014. In addition, South Africa's Massmart has begun to include key Index questions in its supplier sustainability surveys.
5. Improving Energy Efficiency –  By working with suppliers to improve energy efficiency through the supply chain of these products, Walmart says Index energy scores have already improved 23 percent in general merchandise categories. The company now provides tools for suppliers to track and reduce the energy used to produce certain products. The company also announced a light-emitting diode (LED) lightbulb available in stores now under its Great Value label for under $9.
All of these things sound like great ideas, but of course, Walmart still has a long, long way to go before anyone can be fooled into thinking it's a sustainable company. We look forward to following up on these initiatives in the future to see if they've really had the predicted impact.