First it was their design for a super energy-efficient air conditioner. Now with their prototype for an energy-saving heat pump clothes dryer, students from the University of Maryland have done it again. For the second year in a row, the team from Maryland won the Energy Department's Max Tech and Beyond — a design competition that challenges collegiate teams to go beyond the current maximum efficiency technology on the market and develop ultra-efficient appliances.
Every year, clothes dryers use about 71 terrawatt-hours of energy, making them one of the largest energy-consuming appliances found in the home. Unlike traditional electric clothes dryers, heat pump clothes dryers recycle warm air to reduce energy usage by 30 percent. These facts inspired the Maryland team to improve clothes drying technology. Led by Professor Yunho Hwang, the team of 17 students spent the past year designing, building and testing a heat pump clothes dryer prototype that is commercially viable. The end result is a prototype that achieved a 59 percent energy savings compared to standard U.S. electric dryers. The team estimates that if their technology is deployed to all American clothes dryers, it could save up to 25.8 terrawatt hours a year — or the amount of energy used to power about 2 million homes.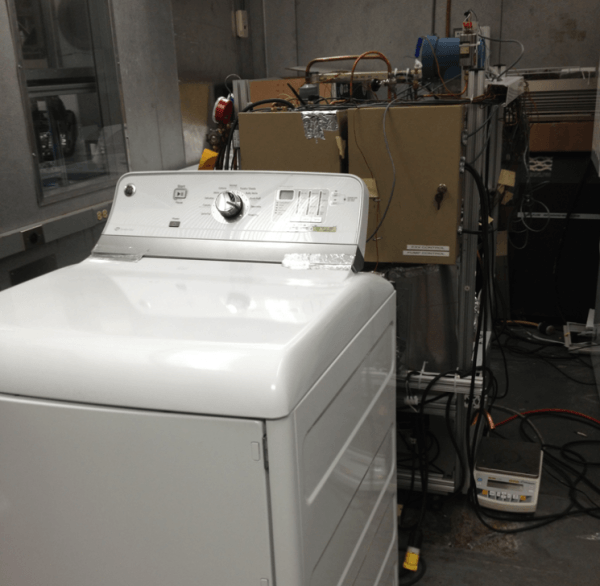 How did Maryland achieve these energy savings? The team incorporated three unique technologies into their heat pump clothes dryer design that enhance heating performance, improve the dehumidification process and reduce energy consumption. These technology innovations also helped keep costs down for the team's prototype. Compared to heat pump clothes dryers on the European market, Maryland's design costs about 10 percent less. The team estimates the prototype's cost at about $900 — or a payback of 2.2 years compared to a standard U.S. electric dryer. The team's next step is to refine the design and then work with partners to commercialize their design concept.
Funded by the Energy Department and managed by Lawrence Berkeley National Laboratory, Max Tech and Beyond Design Competition not only helps bring cutting-edge energy technologies to the global market, it also helps develop the next generation of clean energy engineers by providing students with hands-on experience they wouldn't have gotten in the classroom. Over the course of a year, students learn all aspects of engineering, from concept development and computer design to component fabrication and lab safety. "The competition offers a playground for our future engineers," says Professor Hwang. "It has helped our students experience multidisciplinary engineering challenges — both in theoretical and hands-on approaches — and built strong teamwork skills."
Coming in a close second was The Ohio State University team's design for a combination space cooling and water heating system for homes. Called the Hybrid Air and Water Conditioning system, the team's prototype builds on their project for last year's Max Tech and Beyond Competition. The system uses the integration of the two technologies to the team's advantage by boosting the efficiency in the dehumidification process and recapturing waste heat for water heating. The result is an estimated 73 percent energy savings compared to a similar central cooling and water heating system. The team plans to have a consumer-grade appliance ready for testing by summer 2014.
For more information on the other teams' designs, visit the Max Tech and Beyond website.

Editor's Note: EarthTechling is proud to repost this article courtesy of the U.S. Department of Energy. Author credit goes to Rebecca Matulka.