Texas is nearing completion of a big transmission expansion that will help send wind energy produced in the Panhandle to the state's big population centers, but there are now suggestions that the Competitive Renewable Energy Zone (CREZ) power lines might need a capacity boost to keep pace with rising production.
A representative from grid operator ERCOT told the Amarillo Globe-News that new transmission lines can handle up to 2,500 megawatts of power, but that wind power projects totaling some 3,500 MW have deals in place to send power to the big cities to the southeast.
Now, projects do sometimes fall by the wayside, and ERCOT said that less than a third of that 3,500 MW in the pipeline is now backed by firm financial commitments. Continued policy support from Washington could be an important factor in turning plans into reality. Still, the grid operator would only give assurance that it has "sufficient capacity through about 2015."
That's not very far away.
We recently reported on Pattern Energy's announcement that it had financing in place to build the 218-megawatt Panhandle Wind Power Project in Carson County, just northeast of Amarillo. The company said the project will be among the first power producers to jump on the new CREZ lines and take advantage of upgraded substations, switch and terminals that are also part of the project.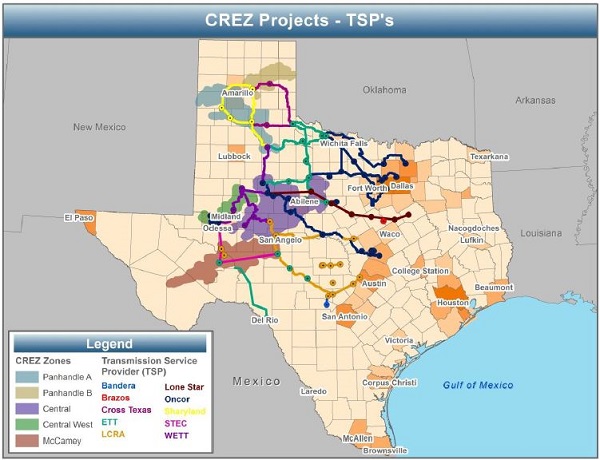 Texas is already the U.S. leader in wind power capacity, with 12,212 MW as of the end of 2012, and the thinking was that with the CREZ lines – totaling 3,600 miles in the Panhandle and elsewhere in West Texas – that figure can go to nearly 18,500 MW (total U.S. installed wind capacity at the end of 2012 was 60,007 MW).
But according to the Globe-News story, there might be a way to move beyond that target. A representative from one of the CREZ line companies told the paper there were "possible incremental facilities that could be added to increase the export capacity of the Panhandle," boosting the regional capacity by another 5,000 to 7,500 megawatts.