A  major drawback of the smartphone revolution is the amount of e-waste it sends to the landfill. Compelled to upgrade our phones every two years (or more often if you're an Apple), we find ourselves with drawers full of old phones that are too toxic to throw away, but too inconvenient to recycle.
In recent years, electronics manufacturers have been pressured to open channels for recovering and properly recycling this e-waste. With one of the earliest cell phone buyback programs, Sprint has led the charge, and now it holds a place in the record books. The company recently broke the world record for the number of cellular phones recycled in one week — 103,582 cell phones, and for now, holds the Guinness World Record.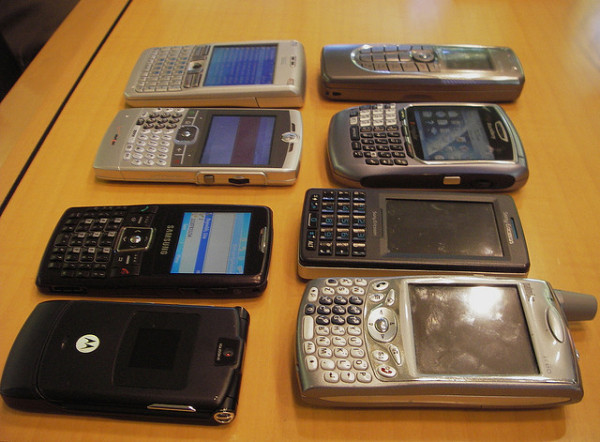 According to Environmental Leader, the audited cell phone recycling count took place the week of Earth Day and was not affected by any special promotions. The previous record was held by AT&T which recycled 50,942 devices in a week during November of 2012.
"Sprint was the first wireless carrier in the United States to initiate a customer buyback program granting instant credit for eligible devices from any carrier in Sprint retail stores," explains a press release. "Today, more than four out of every 10 customers in Sprint retail stores participate in the buyback program."
These high recycling rates have saved the company more than $1 billion, putting more than $100 million back in customers' pockets in 2012 alone. The reclamation program has also diverted 12.5 million pounds of e-waste from landfills.
Sprint is the only carrier to partner with the U.S. EPA, as part of the agency's Sustainable Materials Management Program, and has been ranked No. 3 on Newsweek's Green Rankings  for two years in a row – the only wireless carrier to crack the list's top 25.
"Sprint continues to demonstrate its commitment to mobile phone recycling programs and the benefits they bring to Sprint customers, the wireless industry and the environment," said Kate Pearce, analyst at Compass Intelligence which ranked Sprint No. 1 overall for its Buyback program the last two years among national carriers. "Its Buyback program and other reuse/recycling initiatives continue to be examples of leadership for the industry."