There may be "no such thing as a free lunch," but free space is still a reality. Well, I should say [freespace]. A collaborative of organizations dedicated to the creation of sustainable community space recently announced a plan to turn San Francisco's vacant lots into vibrant, free community spaces using the versatile shipping container.
It all started with [freespace] a wildly successful philanthropic projects that turned an empty warehouse into a useable community space. It was so popular among local residents that they found a way to extend the space through October. Now, using ReAllocate's new online collaboration platform, [freespace] and ekoVillages want to use shipping containers to recreate the magic in other places.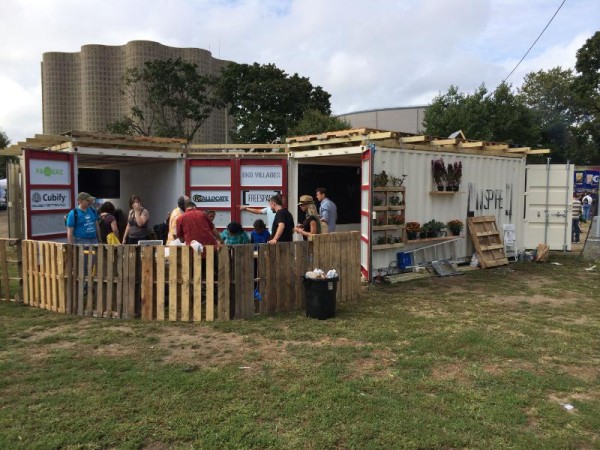 The announcement of the three-way collaboration came at this week's World Maker Faire in New York. ekoVillages was invited to arrive at the event early, and they spent upcycling shipping containers to serve as walk-through booths for various exhibitors.
"We did this using ecological principles and up-cycling existing materials, including using packing crates abandoned by others delivering their setup to the Maker Faire," said Adam Hales, CEO of ekoVillages, in a press release. We've also added our special flavor of locally sourced art. We're surrounded by some of the world's greatest makers here at the New York Hall of Sciences, and we love that we're actually making stuff at Maker Faire."
Through the newly formed strategic partnership, the organizations will offer their combined solution "for pop-up, temporary communities, based around up-cycled shipping containers. ekoVillages transforms containers with insulation, electrical fitout, windows, art, furnishings, and practical, creative design."
"[freespace] and ekoVillages have come up with something that can be deployed rapidly and cost-effectively, anywhere in the world, to help local communities and encourage innovation," said Mike Zuckerman, Founder and Culture Hacker of [freespace], in the same release. "We are already talking about doing more [freespaces] around the country and around the world, and we are going to be very active during Innovation Month in October."
The first installation of ekoVillages combined with [freespace] can be seen until October 31 at [freespace], 1131 Mission St San Francisco (between 7th and 8th).