It's not always easy to be an EarthTechling. We all want to live in a cleaner, greener world, and we have the best of intentions. But with so many options for conserving, tracking, and generating energy, it can be overwhelming to separate the practical from the possible. If you've ever wished you had a friend in the energy conservation business that walk you through the ins and out of energy efficient upgrades, we've got some good news.
Kilojolts Consulting Group recently released the SEE The Light Home Energy Toolkit. In easy-to-understand language, this bundle of 10 simple tools, one how-to Workbook, and 30+ years of energy conservation experience is perfect for homeowners or renters looking to jump-start an energy-efficiency project.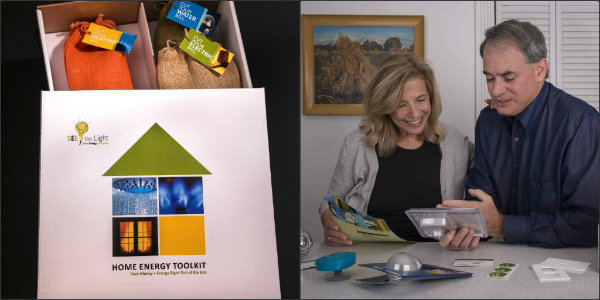 Kilojolts is known for its SEE The Light product suite designed specifically for commercial, industrial, and municipal sectors. Over time, however, lots of interested residential customers began asking for a similar toolkit that would help them implement meaningful energy conservation technologies in their own homes.
The resulting collection of products, tips, and instructional guides is meant to help homeowners and renters to change their behavior and start saving money immediately. According to Kilojolts, the room-by-room tips and tools are designed to help any user slash
electric, water and heating bills by an average of 16 percent, with a potential savings of $350 per year.
"Clients were going to big box stores and standing there for hours figuring out which light bulb or shower head to give away as gifts," said Kilojolts Consulting Group founder Gary Markowitz. "With thousands of home energy efficiency products to choose from, our clients were stumped." Markowitz tapped into his expertise and relationships with energy product manufacturers and retailers to create this "dream team" energy conservation tool for the home. "We tested top brands for simplicity and reliability, and selected 10 products every home owner or renter needs."
Priced at just $99, the The Home Energy Toolkit includes the indispensible Kill-A-Watt Appliance Efficiency Monitor, an LED light bulb, weather sealing tape, outlet and switch sealers, a magnetic thermometer, a faucet aerator, a "shower coach" and a low-flow showerhead, and handy "Turn It Off" reminder stickers and notepads.