Porsche, ahead of the Frankfurt Motor Show next week, announced plans to debut what looks to be the production version of its highly anticipated 918 Spyder plug-in hybrid super car. The automaker has been beating the bush on this vehicle for years now, and it finally looks as if we will see soon in small numbers on the roads.
The plug-in hybrid, which goes 0 to 60 mph in less than 2.8 seconds and offers an average standard fuel consumption of between 3.0 and 3.3 liters/100 km, will cost a very hefty $845,000. For that, you'll get under the hood a 570-hp, 4.6 litre V8 engine mated with a 115 kW electric motor for a staggeringly high combined 887 horsepower. That certainly will beat any Prius off the starting block of your neighborhood red light.
If you are looking to push this vehicle to its limits, it certainly will hit its top speed of 200 miles per hour without much of a problem. If you are looking to be a little more efficient, you can also run it in electric mode only, which is one of five possible operating choices available at the touch of a switch, according to Torque News. If you go for just EV, you'll get up to 18 miles driving range while hitting speeds up to 93 MPH. That's really fast for a hybrid operating with just the electric motor moving it along!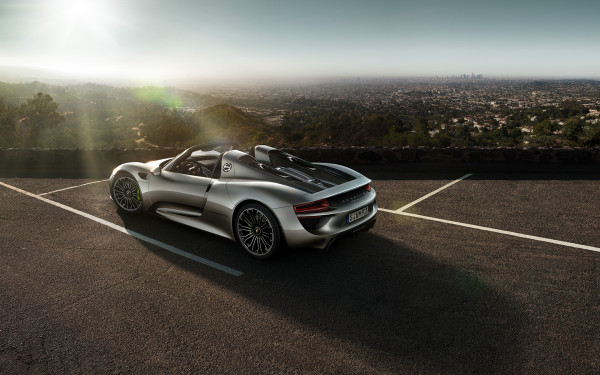 Powering the electric operations of the 918 Spyder is a 7 kWh lithium-ion battery pack that's cooled by its own dedicated circuit. As this is a plug-in model, you'll be able to recharge it via a wall outlet or fast charger. If you opt for the latter, expect a 25 minute recharge time.
As Porsche has been preparing this car for public consumption, it has been putting it through its share of trials. One of those more recent affairs happened around this time last year at the demanding 12.8-mile Nürburgring Nordschleife, where it posted a lap time of 7 minutes and 14 seconds.