In case you missed it in your haste to get to the long weekend, the U.S. recently hit a very important transportation milestone: The launch of San Francisco's Bay Area Bike Share Program on August 29th means the number of bike sharing programs in the United States increased by more than 100% in 2013.
According to the Earth Policy Institute (EPI), the United States was home to 22 modern public bike-sharing programs representing about 9,000 shared bikes at the start of this year. With the launch of new programs in New York City, Chicago, and now San Francisco, that number has climbed to 34 bike sharing programs and over 18,000 bikes.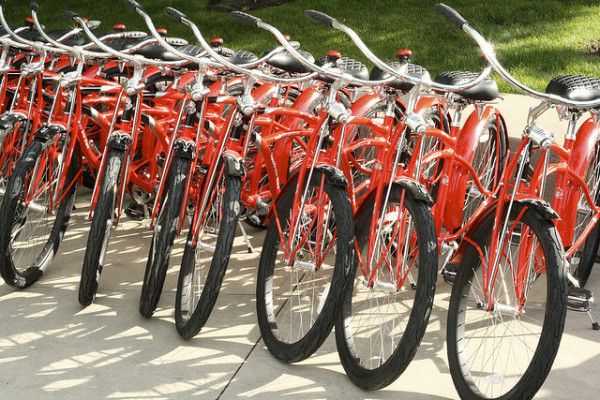 Bike sharing programs are fairly straightforward: People pay a one-time or monthly membership fee to unlock bicycles from stations placed strategically around an urban area. In most cases, rides under 30 minutes are free, after which additional fees kick in, encouraging people to make short trips and to keep more bikes available for other riders.
Demand for bike sharing programs in big cities across America has been somewhat overwhelming. "When New York City opened registration for its much anticipated public bike-sharing program on April 15, 2013, more than 5,000 people signed up within 30 hours," reports EPI.
Not only do bike sharing programs encourage people to get out of their cars, getting much-needed exercise, reducing carbon emissions, and relieving traffic issues, they also encourage a more locally-focused lifestyle, something that greatly benefits small businesses in the area. Realizing the positive impacts something as simple as bike-sharing can deliver, it's expected that even more cities will soon follow suit.
"With a number of new programs in the works and planned expansions of existing programs, the U.S. fleet is set to double again by the end of 2014, at which point nearly 37,000 publicly shared bicycles will roll the streets," reports Grist.