Normally, a building covered in smoke would be cause for alarm, but in Bavaria, it's cause for rejoicing. That's most likely because the smoke isn't from a fire. It's a hydrophobic coating known as Lumira Aerogel. Sometimes called "frozen smoke," the aerogel produces insulating particles that are more than 90 percent air.
Created by Boston-based chemical company called Cabot, Lumira Aerogel was designed for incorporation into building systems. In Bavaria, the substance has been used to prevent energy loss in the window system at the Bavarian Center for Applied Energy Research.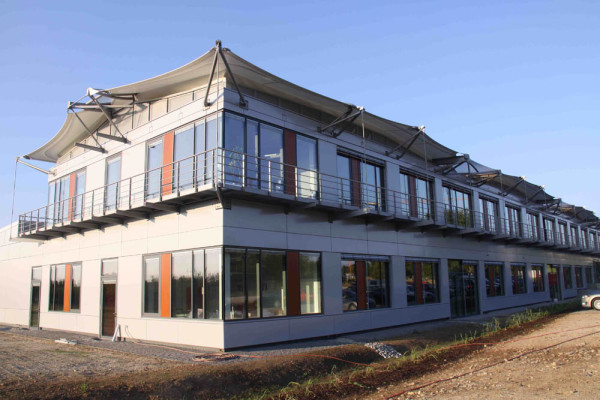 "The Centre comprises research and experiment facilities, offices, laboratories and technology rooms as well as adequate infrastructure for research activities of the ZAE Bayern in Wurzburg," explains a German architectural site. The idea was to create an energy-efficient building that would demonstrate cutting technologies for conserving energy, thus inspiring those who would continue such research inside its halls.
The 'frozen smoke' coating from Cabot was just such a technology. "The two-story building is covered by a translucent roof membrane that serves as weather protection as well as an outer layer of the multi-layer structured roof. As part of the inner insulating layer, the building utilizes glass-fiber reinforced polyester panels that are filled with the Lumira aerogel in the ceiling of the rooms," reports Energy Manager Today.
The substance still allows daylight to penetrate the ceiling panels, providing energy-efficient illumination, but without the normal inefficiency of untreated glass. "Cabot says its aerogel delivers higher thermal performance and light diffusion when compared to other typically used translucent systems," explains Energy Manager Today.
According to Cabot, the use of aerogel in walls, floors, and roofs can help a building meet even the most difficult requirements of the Passive House, LEED Platinum standards, as well as ever more strict regional requirements.