As the need to transition to a renewable energy economy becomes more apparent, those financially entrenched in the old way of doing things have become increasingly irrational. Recently, there have been a rash of anti-LEED policies proposed at the state level, most notably in Kansas, North Carolina, and Mississippi.
Those in the chemical and plastics industry object to new LEED V4 regulations, which discourages the use of their products in green building designs. Ever the friend of large and typically destructive corporations, the U.S. Chamber of Commerce has joined in the chorus against LEED certification, and as a result international construction giant Skanska USA has terminated its membership.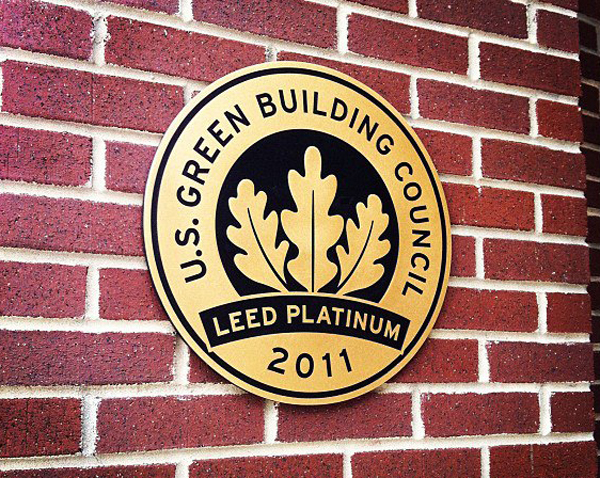 Apparently the issue of contention is the U.S. Chamber's membership in the American High-Performance Building Coalition (AHPBC). On the surface, it sounds very pro-green building, but as usual, it's important to follow the money. According to Paula Melton of Building Green, the AHPBC was founded "by the American Chemistry Council (ACC) and other trade organizations to support green building standards developed through the ANSI or ISO consensus process", and generally does not take a favorable view on LEED–the most recognized and widely used green building system in the world.
Now LEED isn't without its faults, but for those construction companies who have seen the big green light at the end of the tunnel, this move by the U.S. Chamber only serves to muddy the waters rather than move the industry forward.
"A limited number of chemical companies — principally in the booming plastics business — have been hiding behind the American High Performance Buildings Coalition and trying, unsuccessfully, to gut progressive green chemistry provisions of a proposed update to the green standards called LEED v4," writes Michael McNally, president and CEO of Skanska USA in a recent op-ed for the Washington Post.
"Opponents are now trying to hold a popular energy bill hostage by proposing language that would effectively ban the use of LEED by the federal government unless the update is changed to remove the offending chemistry provisions," McNally continues. "Our clients will not accept unknown and untested chemicals in their buildings or their potential health impact," he notes later. [He refers to the Shaheen-Portman energy bill, and an amendment that could potentially prevent federal agencies from using LEED for its projects.]
Citing what it referred to as attempts to "halt progress in sustainable building" the company terminated its membership in the U.S. Chamber of Commerce, although it pointed out that it was not necessarily encouraging others to do the same.