I've found the perfect airline: Horizon Air. Not only does it offer free beer and wine, but the regional carrier and its parent, Alaska Airlines, are No. 1 in fuel efficiency among 15 U.S. carriers based on their 2010 performance.
There's a shockingly big gap between the airline at the top of the list and the one at the bottom, with Allegiant Air consuming 26 percent more fuel than Alaska Air Group per unit of transport service. Here are the full rankings, which if you have a choice, you might want to factor into your flight-booking decision-making: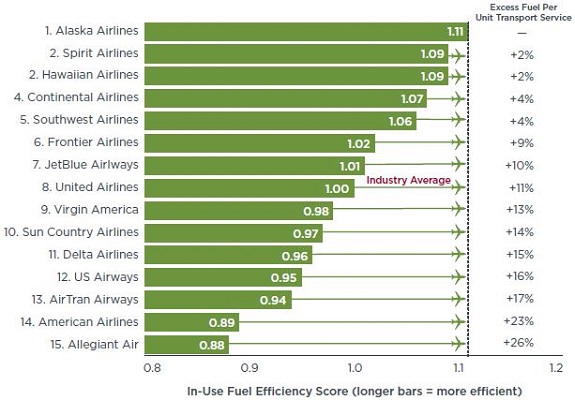 "This gap is larger than what might be expected in a mature aviation market during a period of high fuel prices," the study's authors, writing for the International Council on Clean Transportation, said in their report.
What accounts for such a difference? "(A) portion of the efficiency gap can be explained by differences in technology across each airline's fleet, with the balance a function of operational practices, including variations in load factor, seating density, route circuity, use of a single engine for taxiing, fuel loading/tankering procedures, airport congestion, etc."
So it sounds like a situation where if an airline puts a big focus on being efficient in its fuel use, it can really pay off. And Alaska says that's exactly what it does.
"We have made significant investments in our fleet, technology and processes to improve our fuel performance, which is a key part of Alaska's commitment to be the airline industry leader in environmental stewardship. These sustainability efforts also help us keep our costs down in order to provide better value for our customers," Keith Loveless, Alaska Air Group's executive vice president and general counsel, said in a statement.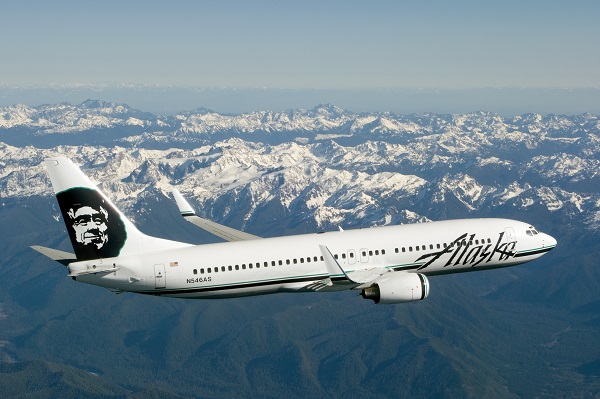 The report said a big factor in Alaska's favor was its use of Boeing Next-Generation 737 aircraft, which comprise most of its fleet.
"These aircraft utilize technologies such as high-bypass-ratio CFM56-7 engines and winglets to reduce fuel burn," the "Alaska's affiliate Horizon also operates a large number of turboprop aircraft, which benefit from very high engine propulsive efficiencies, on many routes."
Alaska, which was among the first U.S. airlines to do biofuel demo flights, said its efficiency efforts have helped it cut carbon emissions by 30 percent (measured by flying one passenger one mile).
The full ICCT report is available online as a 44-page PDF.