In order for a structure to be considered "passive", it's got to be buttoned up tight. Leaky windows or insufficient insulation means wasted energy, something that's unacceptable in a passive house design. Normally, this would prevent glass-covered skyscrapers from even being considered (windows shed a lot of energy in both directions) but a new high-rise in Vienna has bucked the trend.
The RHW.2 building–home to the Austrian Raiffeisen-Holding Group–features a glass facade that's nearly 300 feet high. Inside, 900 employees enjoy superior air quality while the building's owners enjoy tiny energy bills. As such, the building was recently certified as the first Passive House high rise in the city–a feat that wasn't all that surprising to those affiliated with the Passive House Institute.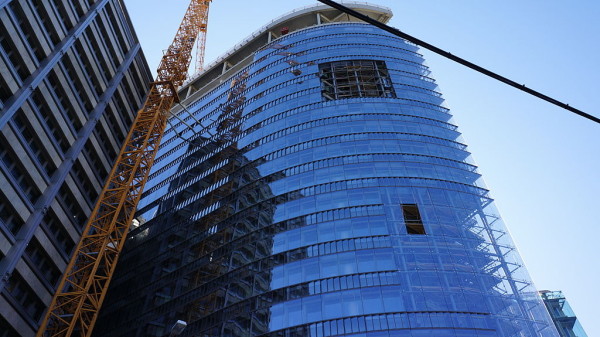 So how does such an edifice achieve the energy-efficiency required for Passive House status? With determination and very carefully selected systems and building materials.
"The building's energy concept is compelling: energy is provided by a photovoltaic system as well as a combined heat, cooling and power plant. Even the waste heat from the data centre is re-used; cooling partly takes place via the Donaukanal," explains a press release.  The windows that make up the facade are triple-glazed for maximum efficiency. This, in combination with optimized shading equipment, means the building's heating and cooling demand was reduced by 80 percent compared with conventional high-rise buildings.
"This building proves once again that the Passivhaus Standard and good architecture are perfectly compatible", said Professor Dr.Wolfgang Feist, director of the Passivhaus Institut, in the same release.
As a whole, Vienna is setting a global example for green building practices in both residential and commercial real estate. The city's "Eurogate" district is an area entirely consisting of Passivhaus buildings. When completed the area will house 7,000 occupants in 800 energy-efficient apartments.