Modern life is hectic and cluttered. Obligations pull us in all directions, while our homes, which should be sanctuaries, are buried in the mess of a too-busy life. We read articles and make to-do lists that should help simplify our lives, but progress is slow. Perhaps simplification would be easier if we reduced the number of places for noise and mess to hide?
The ÁPH80 is a gorgeous prefabricated house designed by a Spanish architecture firm called Ábaton. Bearing a striking resemblance to something you might have created out of LEGO as a child, this micro home is designed to be portable, recyclable, and yes, simple.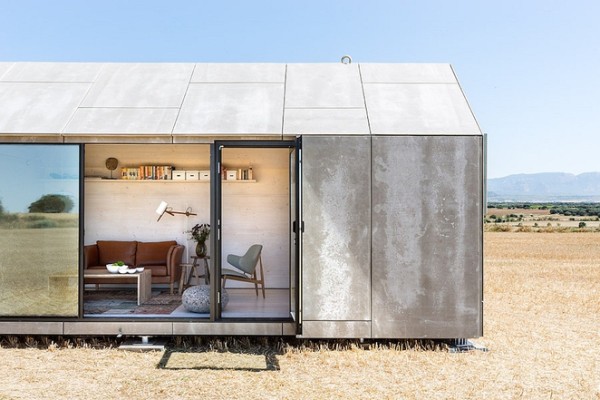 The APH80 is made from wood sourced from sustainably-managed forests and cement wood board. Three walls of the house are devoid of windows, but several floor to ceiling glass panels, including the door, located on the front side make up for it by drenching the living area in sunlight.
Besides the living room/kitchen comb, the tiny house boasts a full bathroom and double bedroom. Its 11 foot ceilings enhance the feeling of spaciousness even though the entire dwelling is only 290 square feet. The designers also mention a ventilated façade with 12 cm of thermal insulation to help moderate the building's temperature.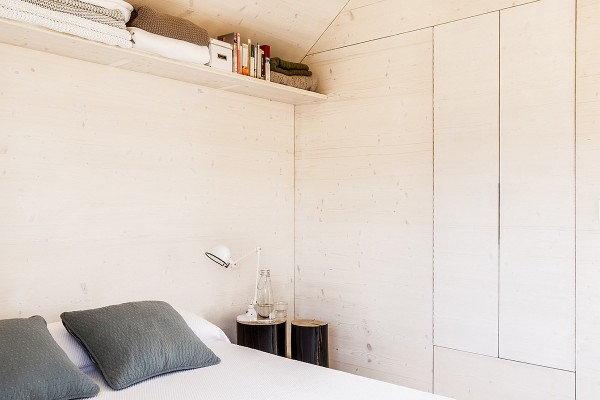 "The proportions are the result of a thorough study by our architects' team so that the different spaces are recognizable and the feeling indoors is one of fullness," explain the architects. "It is a simple yet sturdy construction made of materials chosen to provide both comfort and balance. ÁPH80 embodies the principles and objectives of ÁBATON: wellbeing, environmental balance, and simplicity."
The entire house can be pre-fabricated in about 6 weeks, and it only takes a day to set up. The architects claim that the APH80 is easily transported by road and ready to be placed almost anywhere, although there's no mention of whether it would be attached to the grid, or come with its own energy-generating technologies.