French automaker Peugeot and Total, an oil company, have teamed up ahead of the Frankfurt Auto Show next month to showcase a new hybrid concept that's emphasized as being "without a plug-in energy source." While it is quizzical why this is mentioned, the 208 Hybrid FE does sport rather impressive fuel economy standards for a design study.
The 208 Hybrid FE, according to Total, has a fuel sipping consumption level of just 2.1 l/100 km, or 112 MPG, and has low C02 emission levels of just 49 g/km over the official NEDC European Drive Cycle (Combined Cycle figure). Acceleration is not bad either, with its 0 to 100 km/h, or 0 to 62 MPH, rating coming in at eight seconds.
Peugeot's newest green car idea is driven by a gas-electric hybrid powertrain, which combines development of the latest generation of a 3-cylinder engine with a battery and an electric motor taken from its 908 Hybrid4 endurance racing car. Special engine management and special software control the entire drive train, noted those involved in the project, and overall the efficiency of the powertrain increases by 10%.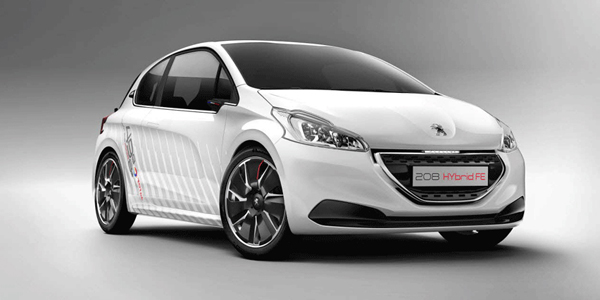 As with other hybrids out there, energy recovery to the battery occurs during braking. In the case of the 208,
during deceleration phases, whether by releasing the accelerator pedal or through braking, the vehicle is slowed down primarily by the electric motor. The hydraulic braking only comes into operation at the end of braking phase to maximize the recovery of the energy available. Over one homologation cycle, this recovery is 25%. Then, on acceleration, this energy is returned and assists the petrol engine according to various parameters: acceleration dictated by the driver and the gear selected.
On the interior, the car keeps those features, except for air conditioning, typical of the 208 production hatchback model. It is designed to hold up to five passengers plus their luggage and, as far as technological bells and whistles go, sports rearview cameras that reproduce their image on board the interior mirror.