If President Obama raises his eyes to the sky as his motorcade is speeding to his vacation home on Martha's Vineyard this week, he'll see a wind turbine rising high above the pastures at the Allen family sheep farm. If he heads to the western tip of the island to view the multicolored clay cliffs, he'll pass photovoltaic panels in the town of Aquinnah, where solar electricity provides 100 percent of the power for its municipal buildings.
The island of Martha's Vineyard, whose winter population of 16,000 explodes to more than 100,000 in the summer, is part of a quiet revolution in towns and cities around the world that are actively pursuing solar and wind as an alternative to fossil fuels. It's a movement that's spreading under the radar as communities like the Vineyard's get inspired by examples as far away as Denmark and share their knowledge internationally.
The roots of the Vineyard's solar explosion can be traced to 2002 when Kate S. Warner, a local architect concerned about climate change, received a Department of Energy grant to run seminars for islanders about renewable power. After she invited Danish energy expert Søren Hermansen to speak at a public meeting about the Danish island of Samsø's successful effort to remove its carbon footprint by converting to green energy, Vineyarders got excited about trying some of Samsø's ideas locally. Wind power is responsible for 100 percent of Samsø's electricity needs today—a radical shift strongly supported by Samsø residents, whose ownership of shares in its offshore and onshore wind turbines gave them a stake in renewable generation from the start.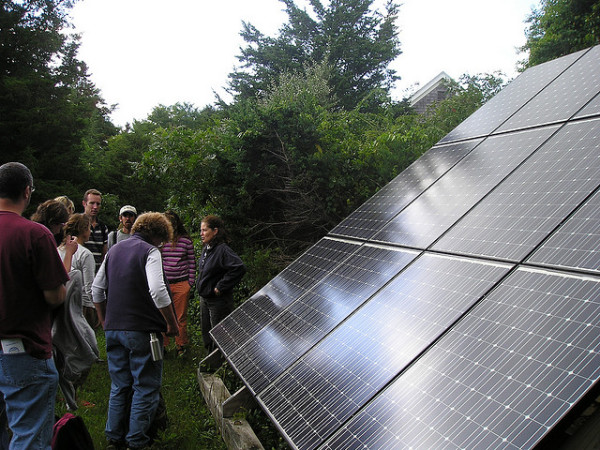 The example of Samsø, an island with a similar rural feel and agricultural/tourist economy to the Vineyard, was "very inspirational," recalls Jim Newman, an elected Selectman from Aquinnah. He says that meeting started him and other local officials thinking about using solar energy for Aquinnah's town hall, library, fire and police stations.
Vineyard Power, a local electric cooperative that grew out of those early discussions on Martha's Vineyard, has ambitious plans to build offshore wind farms like Samsø's off Martha's Vineyard with the goal of providing all of the Vineyard's energy from renewables.
The Vineyard's own efforts have had reverberations beyond the island's shores. Gary Harcourt, a local cabinetmaker, participated in Warner's first wind energy workshop, and went on to develop a second career erecting wind turbines. Today his highly sought skills have taken him all over the United States and as far afield as Great Britain and British Columbia to provide wind power.
The solar roofs Obama will see on the island may be small-scale but, taken together, small projects like these could add up to a big impact on energy use and climate—and they already have. As Obama pointed out in his Climate Action Plan speech at Georgetown in June, over the past four years as a nation we've doubled the electricity generated from solar and wind.
Take, for example, the Vineyard's most visible commercial solar arrays sitting atop shade canopies in the parking lot at Cronig's, a local supermarket. If each parking lot in the United States was fitted with a similar solar canopy, the 4,000 square miles now taken up by asphalt parking spaces could provide electricity for half the country, estimates John Abrams, president of South Mountain Company, a design/build company and the leading installer of photovoltaic panels on the island. (Photo by Sarah Glazer)
South Mountain has installed almost a megawatt of solar electric capacity in about 90 systems on the island– in houses, stores and at the Aquinnah town landfill—Abrams estimates, and the volume of work keeps a full-time installation crew busy. Why is there so much interest in solar right now? Since solar kilowatts fed into the grid provide a credit on the electric bill, the owner can usually count on lowered electric charges. Combined with federal tax credits and Massachusetts state rebates, that makes solar electric an appealing investment, Abrams says.
Thanks to those incentives, investors are providing the solar panels to the town of Aquinnah at no cost, Selectman Newman says, and are capturing the subsidies for themselves, making it a win-win for the town and investors. "The project didn't t cost the town anything, we pay electricity at a reduced rate and we're doing it sustainably," he says.
Most of the other towns on the island are also considering following Aquinnah's example. "It's a no-lose situation," says Selectman William Rossi of the neighboring town of Chilmark, which expects to save 10 percent on its electricity once it installs solar electric for its town buildings under an arrangement similar to Aquinnah's. "We're trying to set an example for people to use less-petroleum-based energy," he says.
Martha's Vineyard's towns may be small, (Aquinnah's winter population is just 350) but the sentiments of its town officials are being echoed around the country. More than 1,000 mayors have made commitments to cut carbon pollution, and more than 35 states have set renewable energy targets.  When the President returns to Washington this weekend, he will find that solar panels have been reinstalled on the White House – another important sign that what is happening on the Vineyard is part of a much bigger move towards a low-carbon future for us all.

Editor's Note: EarthTechling is proud to repost this article courtesy of Natural Resources Defense Council. Author credit goes to Sarah Glazer.