Land Rover, for whatever reason, has decided now seems to be the time to throw itself into the green vehicle arena. Fresh off of word it is field testing an all-electric model, the stalwart SUV brand now plans to bring to market its first ever hybrid models. Plans call for orders to begin being taken next month for deliveries in early 2014.
The two models are the Range Rover Hybrid and Range Rover Sport Hybrid, both of which share virtually identical drivetrain characteristics under the hood. This includes a 3-liter SDV6 diesel engine with a 35kW electric motor integrated with an 8-speed ZF automatic transmission and lithium-ion battery pack. The electric motor produces 170Nm torque to boost acceleration and drives the vehicle in EV Mode, according to Land Rover, letting one travel at speeds of up to 30mph (48km/h) for a range of up to one mile (1.6km) in electric only.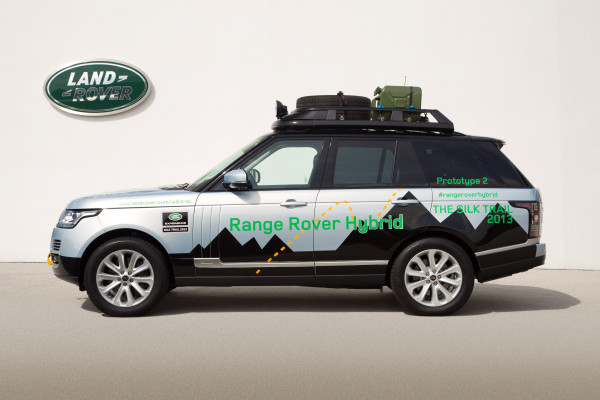 Together, said the automotive company, output of the diesel engine and electric motor is
340PS at 4,000rpm and a class-leading 700Nm torque between 1,500-3,000rpm, resulting in stunning SDV8-style performance.  Both models accelerate to 62mph (100km/h) in under seven seconds, deliver strong transient and mid-range performance with a top speed of 135mph (218km/h), combined with a 26 per cent reduction in CO2 emissions to 169g/km, equivalent to 44.1mpg on the combined cycle.
The electric motor can double as "a generator, harvesting kinetic energy through regenerative braking, charging the battery when the vehicle is slowing." In addition, the battery is mounted beneath the floor of the vehicle in "a protective boron-steel cradle without impacting on the cabin or luggage space."
In keeping with the layout of their non-hybrid kin, the Range Rover Hybrid has the same five-seat capacity and luggage space as the standard vehicle and retains the full-size spare wheel.  The Range Rover Sport Hybrid, meanwhile, has an interior that's unchanged from the standard model, right down to the 5+2 seating.
And, yes, both models also sport a four-wheel drive system. This will be put to the public test as three of the new hybrid SUVs embark upon a 16,000 km expedition that visits 12 countries and "takes in some of the world's most challenging roads, passes and trails, including part of the ancient, 4,000 mile Silk Road connecting Asia with the Mediterranean." It will be broken into 10 separate legs.