There's a clear leader in the Great Lakes wind power derby: Erie. Lake Erie Energy Development's Icebreaker project, a six-turbine, 18-megawatt undertaking, is in the serious planning stages after snagging a $4 million U.S. Department of Energy grant late last year. LEEDCo says it will have the demo project up by 2017, and right now it's taking pledges from people and companies that would be willing to pay a premium for Lake Erie wind energy.
Lake Michigan is making offshore wind power noises, too, with the recent adoption in Illinois of the Lake Michigan Wind Energy Act. But the word out of Illinois is not to expect anything soon, since the act is really about getting state agencies to set up processes for dealing with possible offshore wind development vs. funding or even incentivizing any kind of construction.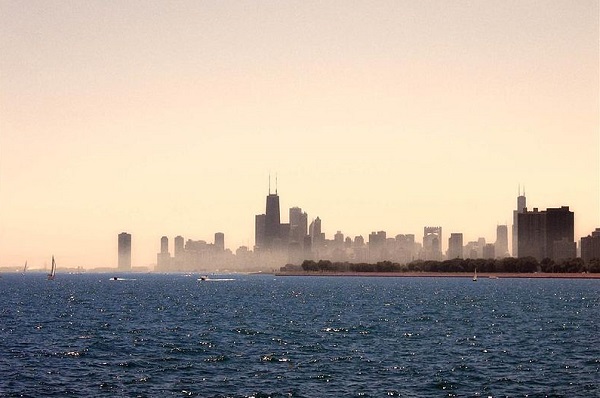 "We are light-years away from putting wind turbines in Lake Michigan," Kevin Borgia, public policy manager at Wind on the Wires, a St. Paul, Minnesota-based group that works on wind power issues in the Midwest, told Progress Illinois in an article exploring the Lake Michigan wind possibilities.
None of the other Great Lakes appears to have a lot of action going on. Offshore advocates had been hoping New York might encourage offshore development, in either Erie or Lake Ontario, but the state has gone back and forth on the matter.
In  2011 the New York Power Authority abruptly ended  the Great Lakes Offshore Wind Project competitive solicitation process, asserting that the power from the projects would be way too expensive, requiring vast subsidies; a few months later, the state joined with a handful of its neighbors in the U.S.-backed Great Lakes Offshore Wind Energy Consortium, formed to "streamline the efficient and responsible development" of wind power on the lakes; then late last year a state task force's blueprint for New York's energy future advised concentrating on the Atlantic as a possible location for offshore wind development.
On the Canadian side of the border, the province of Ontario, which has a share of four Great Lakes, has since 2011 had a moratorium on offshore wind development "while further scientific research is conducted."