The world of solar powered electric car chargers has grown by one in the city of Chicago, and as a bonus it is tied to a lithium-ion energy storage system. This innovative merging of green technologies comes courtesy of a partnership between AllCell Technologies and Windfree.
The set up is designed, according to AllCell, to help " buffer the electrical grid from the uneven power demands of EV charging while providing enough capacity to charge two vehicles in case of a power outage." It is equipped with thermal management technology that reportedly will help to keep it from overheating.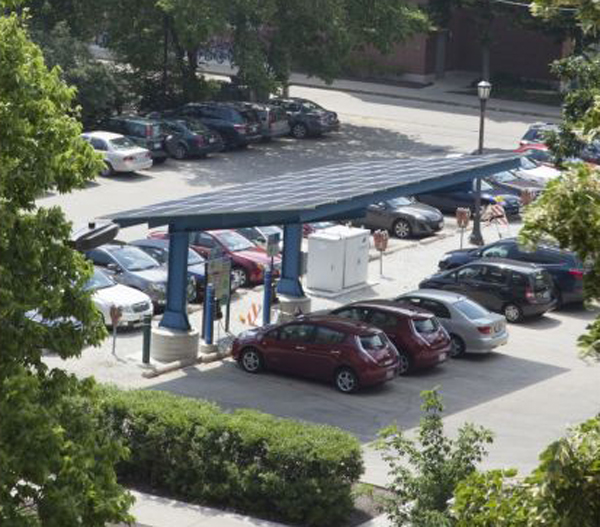 Those who go to charge up their electric cars at this build out will find themselves looking at a 10 kilowatt solar canopy, 40 kilowatt-hour battery system, and two Level II charging stations. Alternative Transportation for Chicagoland owns the installation, and other project partners included architects Farr Associates and Continental Electric Construction.
"The combination of advanced battery technology incorporated with our solar canopy EV charging stations make this a dream project for Windfree, said WindFree President Doug Snower in a statement. "We look forward to sharing open source data through a web base monitoring portal that will demonstrate utility infrastructure benefits and energy savings."
The last solar powered electric car charging operation we reported on was up in Vermont at King Arthur Flour. There are plenty of other examples out there as well. Still, as this story points out, without an sufficient attached energy storage system you may either be relying on power from the grid or waiting a really long time for your EV's battery to be ready to go.