General Motors is set to debut the 2014 Chevrolet Volt, and with the new model year of what's noted as being the best selling plug-in vehicle in America comes a price drop. The extended range electric vehicle will start for $34,995 which, with a federal tax credit of up to $7,500, could drop the starting price to $27,495 before one applies other price reductions such as green vehicle rebates in select states.
GM is looking to broaden the vehicle's exposure to price-sensitive prospective buyers, especially in regards to trying to make the Volt competitive against lower cost gas-powered sedans. Those who pony up for the car will be joining those, according to the automaker, who, when charging regularly,
drive 900 miles between fill-ups and visit the gas station about once a month. The 2014 Volt will continue to provide owners with [a] fuel economy of 98 MPGe (electric) and 35 city/40 highway on gasoline power without any need to change their daily driving habits while saving $900 in annual fuel costs.
Volt drivers have been said to date to have logged 364 million miles, including 225 million electric miles. It is something of a positive mark for the overall Chevy brand, attracting new buyers to it to the tune of over 70 percent of those who purchase a Volt. A good number of these are trading in Prius hybrids as they "upgrade" to the Volt, which is something Ford is seeing in a similar fashion as buyers make the switch to its green vehicles.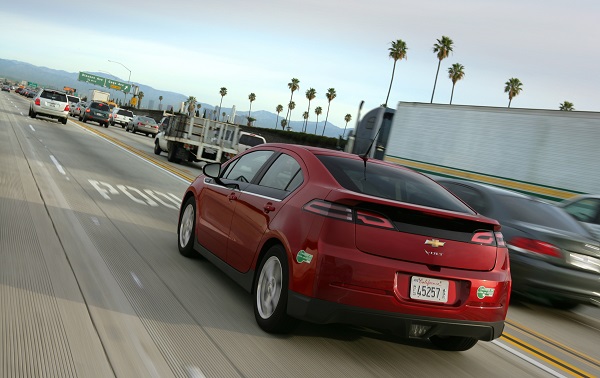 GM said the Volt continues to be doing best in California. This is likely in large part due to its access to a special low emissions package that earns it a coveted "sticker" for single-occupancy HOV lane access in California as well as New York.
The 2014 Volt, which will be available by summer's end, will come in two new colors and also offer a a leather-wrapped steering wheel. It gives drivers a an EPA-estimated 38 miles (61 km) of gas free driving, "depending on terrain, driving techniques and temperature." Its range-extending engine provides it up to 380 total miles (615 km) of total driving range as well.