Lease programs have proved to be a big winner for solar power, so why not fuel cells? Bloom Energy is giving it a go, turning to Bank of America to help finance a program that it hopes will lure more business customers to use Bloom's solid oxide fuel cells for onsite power generation.
Bloom has been the poster child for fuel cells ever since 60 Minutes did a big feature on the company a few years ago, and we've certainly seen a lot of high-profile companies – including Apple, eBay and AT&T – turn to the fuel cells. A couple of companies are already lined up to kick off this new program, too.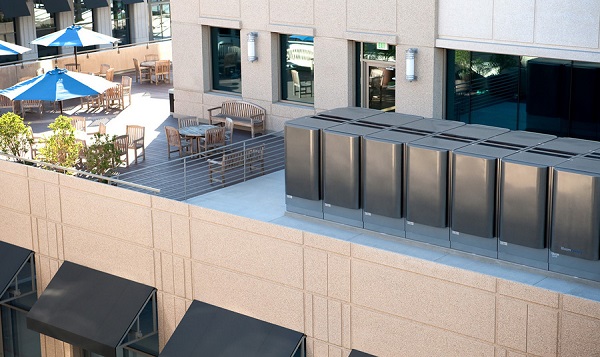 "The program streamlines customer deployment of Bloom Energy Servers and eliminates the need for an upfront capital investment," Bloom said in a statement. "BofA Merrill has made a multi-million dollar commitment to the program's two initial projects – the TaylorMade-adidas Golf Company manufacturing facility in Carlsbad, Calif., and Honda Center in Anaheim, Calf., home to the National Hockey League's Anaheim Ducks.  The two entities will use Bloom Energy's clean energy technology to power their facilities."
You could argue the fuel cells aren't as green as solar or wind, since they often run on natural gas (biogas will work, too). But even when they use natural gas as an input in the electrochemical process that makes electricity, the fuel cells can be cleaner than almost any grid power. On its website, Bloom says its technology allows customers to "reduce their CO2 emissions by 40 to 100 percent compared to the U.S. grid (depending on their fuel choice) and virtually eliminate all SOx, NOx, and other harmful smog forming particulate emissions."
Leasing programs and similar power-purchase-agreement arrangements have been right at the heart of growing solar power. They can largely eliminate upfront costs that can be a roadblock to deployment. Plus, the current cost, subsidy and regulatory structure often allows the companies who own the systems to sell power to homeowners and businesses at rates that beat the retail price of electricity – especially in high-cost electricity markets like California.