Ford, looking to respond to customer criticism and independent testing which found the reported mileage of its 2013 C-MAX Hybrid did not match up with real world usage, announced today plans to lower the MPG rating for this car. It also unveiled how it plans to make sure the 2014 version is more in line with what the automaker is hoping for in terms of fuel efficiency.
As the Detroit Free Press reported, Ford, after "customer complaints and testing by third-party Consumer Reports magazine that the advertised 47 m.p.g. for the C-Max hybrid could not be duplicated in real-world driving," is adjusting the MPG rating to an EPA combined fuel economy value of 43 mpg. In addition, it will be issuing rebates to those who own or lease the vehicle for $550 or $325, respectively, to cover "the estimated average fuel cost of the difference between" the two different fuel labels.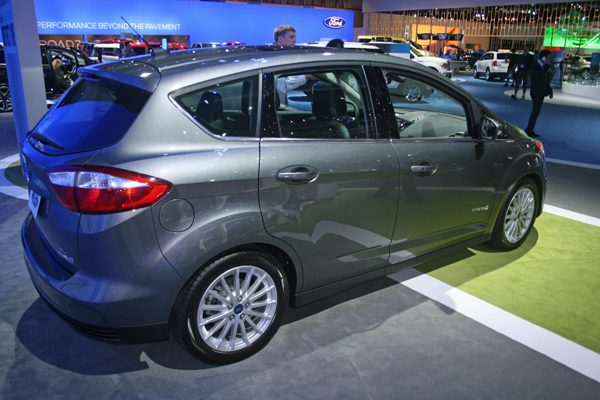 Lawsuits around this MPG issue are pending even as Ford recently said it would be giving 77,000+ of its hybrids, including the C-MAX Hybrid, Fusion Hybrid and Lincoln MKZ Hybrid, free software updates designed to improve fuel economy. This recall of sorts is on top of recent news over 33,000 C-MAX Hybrids face another issue centering around occupant protection that's the subject of its own back to the shop trip for a fix.
So what's Ford doing with the 2014 version to try and get around some of the debacle of the current model year? In addition to the powertrain software updates being pushed to 2013 owners, it reportedly will also benefit from several hardware changes, which include
Gearing changes that result in a more efficient transmission drive ratio
New hood seal, front and rear tire deflectors, A-pillar moldings and the addition of rear lift gate deflectors to improve vehicle aerodynamics
New engine oil with reduced friction
The Michigan-based company expects these enhancements will actually "improve customers' on-road fuel economy, especially at highway speeds." What this actually translates into for fuel economy labeling has not yet known, as testing to generate the results is not yet complete. Ford is being careful to not stumble over this issue again, noting that testing of the 2014 Fusion Hybrid, as well the follow-up testing of the 2013 model, was done in a different manner.
At the heart of the faulty testing process, and hence the need for the different approach, said Ford, was that
previously – and consistent with EPA's General Label rules – testing of the Fusion Hybrid was used to generate fuel economy labels for a family of vehicles, including both Fusion Hybrid and C-MAX Hybrid. The result was the same fuel economy label values for both vehicles.
Testing is now being done separately for the C-MAX Hybrid.
"Ford is absolutely committed to being a leader in the hybrid market and to top fuel efficiency across our lineup," said Raj Nair, group vice president, global product development, in a statement. "We are taking actions with our popular C-MAX Hybrid so that customers are even more satisfied with the vehicle's on-road fuel efficiency performance."