Most of us hardly give any thought to how we cook our food (if we cook at all). We've got gas and electric stoves that are safe to use in our homes, and relatively efficient. We forget that those in developing countries rarely have this luxury. Instead, these families rely on open fires or dangerous fossil fuels to provide the heat required for cooking. These inefficient stoves pollute indoor air and the atmosphere.
We've reported on lots of companies aiming to bring an efficient cookstove to the developing world, but this is the first time we've been able to feature one that's being locally made. Just yesterday, Burn Manufacturing produced its very first high-quality, fuel-efficient charcoal cookstove. And it rolled off the line in Kenya.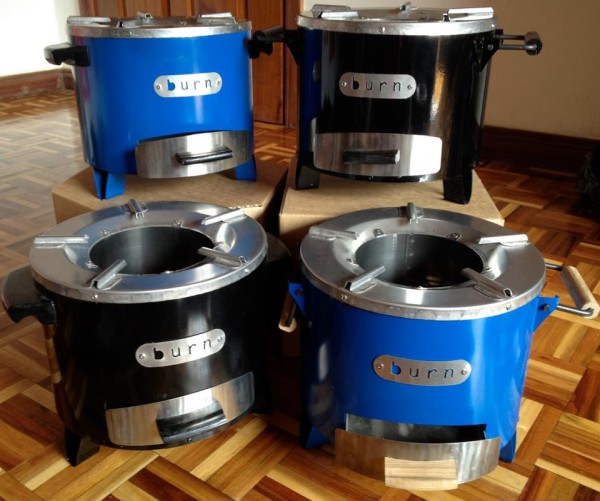 If this is the first you've ever heard of Burn Manufacturing, it's because they've been too focused on their goal of opening a production facility to benefit the Kenyan economy to do much publicity. In the cookstove startup world, however, they've been big news.
The company has designed a series of highly-efficiency biomass cookstoves, each specifically suited to the needs of its target demographic. It requires only a fraction of the fuel consumed by traditional cookstoves, while boiling water faster and producing only half of the carbon emissions.
A graduate of the Fledge incubator program, Burn recieved $3 million in funding from the Overseas Private Investment Corporation (OPIC), the U.S. Government's development finance institution. They also received $1 million in funding from GE. The funding went a long way toward establishing a clean cookstove manufacturing facility in Nairobi, an achievement that will create over 200 manufacturing jobs in East Africa and more than 20 design and manufacturing jobs in Washington State, according to an OPIC press release.
And now, a portion of Burn's life-saving dream has been realized. Yesterday, the first came off the line, on track toward 3 million stoves to help half the consumption of carbon and virtually eliminate the smoke in 3 million households of East Africa. But this is just the beginning. In July 2014 BURN plans to open a full production facility that will manufacture 99% of its components locally. The Kenya facility will produce complete stoves as well as kits that will be assembled in satellite facilities in Uganda (2014), Tanzania and Rwanda (2015).
Learn more in the video below.