The cellulosic ethanol movement – with its promise of renewable transportation fuels that don't use food crops – has scored a victory: Years in the making, a Florida biofuels plant that can turn things like yard, vegetative and household waste into ethanol is up and running at a commercial scale.
Ineos Bio said the Indian River BioEnergy Center, which uses high heat in a partial oxygen environment to convert biomass waste into a gas consisting of hydrogen and carbon monoxide and then uses bacteria to convert the gas into ethanol, would begin shipping fuel this month.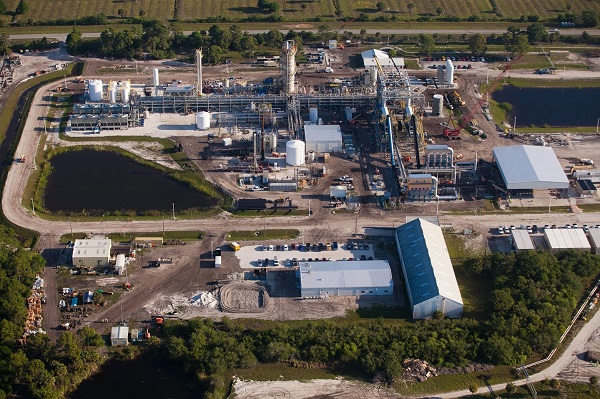 The plant's builders expect it to be able to produce 8 million gallons of ethanol a year while also using heat generated in the process to produce power, with a targeted capacity of 6 megawatts.
The Vero Beach plant was backed by the federal government with a $50 million Obama stimulus grant as well a guarantee on  $75 million in loans through the U.S. Department of Agriculture, under the 2008 Farm Bill's Biorefinery Assistance Program. And reaching back further, Energy Department grants of $5 million over a 15-year period helped develop the gasification-fermentation technology at the University of Arkansas.
"Unlocking the potential for the responsible development of all of America's rich energy resources is a critical part of our all-of-the-above energy strategy," Energy Secretary Ernest Moniz said in a statement. "Today's announcement of commercial-scale cellulosic production represents an important benchmark for American leadership in this growing global industry. It also demonstrates the need for early-stage investment in innovative technologies that will help diversify our energy portfolio, reduce carbon pollution and lead to tomorrow's energy breakthroughs."
The plant took a lot longer to become reality than planned. On the Ineos Bio website you can find an October 2009 press release that forecast completion of the project by the end of 2011. In August 2011, the company headlined a release "No Delay," and said the plant would be complete in April 2012.
But Ineos Bio is hardly alone in struggling to turn non-food crops into fuel. The U.S. Energy Information Administration recently said output this year could "grow  to more than 5 million gallons in 2013," and by 2015  production capacity could be up to 250 million gallons.
That's good – until you compare it to expectations.
"Although cellulosic biofuels volumes are expected to grow significantly relative to current levels, they will likely remain well below the targets envisioned in the Energy Independence and Security Act of 2007," the agency said. "That law set a target level of 500 million gallons of cellulosic biofuels for 2012 and 1 billion gallons for 2013, growing to 16 billion gallons by 2022."