They came unglued – that, more or less, is the word from Siemens on the giant turbine blades that broke off their hubs and went winging to the ground at wind farms in Iowa and California this past spring.
"Siemens concluded that the fractures happened as a result of adhesive bonding failure between pre-cast root segments and the fiberglass laminate of the main blade," a Siemens spokesperson said in an emailed statement. "The adhesive bonding failure was caused by insufficient surface preparation of the root segments."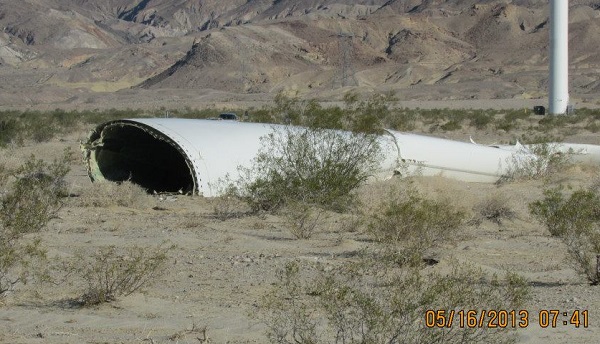 The second of the two failures, at Pattern Energy's Ocotillo wind farm in Southern California, had led to a "curtailment" of turbines employing this 53-meter blade on Siemens' SWT 2.3-180 turbines, and prompted the Bureau of Land Management to completely shut down the Ocotillo plant, which is on federal lands, on May 16, just a few months after it began operating.
Pattern said that Ocotillo's 94 turbines began coming back online one at a time last week. "The work is expected to continue through the end of July," a spokesman said in an email to EarthTechling.
The BLM outlined in a June 28 notice a process of inspection and documentation that would allow individual turbines to be removed from its suspension order.
Siemens said that all of the turbines with B53 blades around the world – about 700, with 600 in the U.S. – were given a once-over, and most of the turbines are already spinning agin.
"A certain number of B53 blades will be replaced because indications of delamination were discovered," the spokesperson said, but even those not being replaced will be modified. "This upgrade will provide an extra level of protection through an incremental enhancement of the bond between pre-cast root and the fiberglass laminate."
Siemens took pains to characterize the issue as highly out of the ordinary, calling the Iowa and California incidents "isolated" and noting that it has "manufactured over 25,000 turbine blades using this root design and the two recent incidents in Iowa and California are the first time a failure of this nature has occurred."