Volkswagen has announced more details on its upcoming e-up! electric car, set to debut at the Frankfurt Motor Show this fall before it goes on sale next year. This includes word that it will have a hefty price of around €26,900 ($34,515) for a "well-equipped base model" that is inclusive of a battery.
As WorldCarFans points out, this a bit more than the standard model cost, which may turn off some looking for a less expensive electric car such as the Nissan Leaf. It is the first electric vehicle from Volkswagen to be produced in high volume, and will reportedly have low energy costs of less than €3 per 100 kilometres, or $3.85 per 62 miles.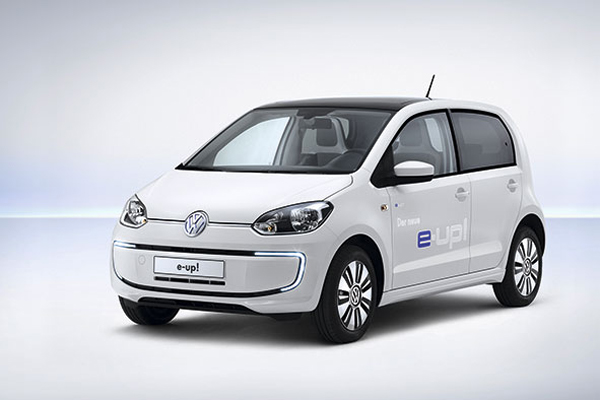 The e-up! is a compact four seater design estimated to have a driving range of up to 150 km, or around 93 miles, and a top speed of 130 km/hr, or around 80 MPH. It is powered by an electric motor with 60 kW / 82 PS peak power, offering continuous power of 40 kW / 55 PS and a maximum torque of 210 Newton meters. The EV accelerates from 0 to 100 km/h, or 0 to 60 MPH, within 13 seconds.
Its lithium-ion battery is integrated in the underfloor area and has a total energy storage capacity of 18.7 Kilowatt-hours (kWh). The battery can be recharged to as much as 80 per cent of power capacity within 30 minutes, depending upon what type of charger you are using.
Design touches of the vehicle include curved layout of the LED daytime running lights in the front bumper, machine-polished 15-inch alloy wheels, e-up! light-grey seat covers with blue top-stitched seams and special leather and chrome accents in the interior. There's also a premium level trim which will be available, which "includes 'maps+more' navigation, Climatronic climate control and multi-function display, heated windscreen, heated seats and tinted rear windows."