Canada looks to be well represented in the upcoming World Solar Challenge, which pits college student teams against one another in a very long solar car race across Australia. Besides the University of Toronto B-7 entry, another university fielding a vehicle in this competition is École de technologie supérieure, which is a special engineering school that's part of the Université du Québec system.
Véhicule Solaire Éclipse, a group of 18 students, are the ones behind the recently unveiled Éclipse 8, a rather unique looking entry for the Challenge. What stands out right away is the aerodynamics of this solar powered electric vehicle. Described as having the "profile of a drop of water" in order to optimize performance, its frame is made of steel and covered with polycarbonate for a lightweight touch.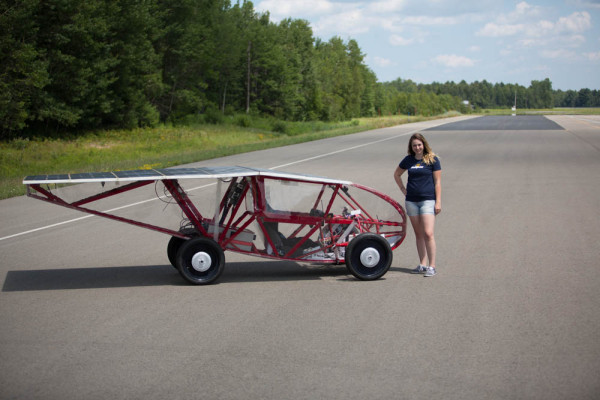 The total lithium-ion battery configuration has a nominal power output of more than 5000 W/h, according to the design team. It sports 391 solar cells that supply about 1200 W to help power it to its top cruising speed of 70 km/h (43.4 MPH). Also of note, according to SolarRacing.org, is the fact it is likely the only four-wheel drive solar racing car entered.
A selection in the Challenger class of vehicles in the race, it competes in a range of single seaters that include top flight teams from Cambridge University, Stanford University and the University of Michigan. Véhicule Solaire Éclipse hopes to improve dramatically from their last Challenge entry in 2011, which found them placing 24th.