We stalk each other via social media networks, but 'liking' a status update is hardly a substitute for an actual conversation or cooperating to accomplish a mutual goal. Simply put, we've forgotten how to collaborate, a problem designers Raymond Olive and Pete Abrams hope to correct with carbs.
Upcycled from various materials found in and around the Princeton University campus, the Mobile Bread-House is part of a series of bread-related interventions inspired by Dr. Nadezdha Savova and The Bread Houses Network. Built as a portable bakery, the House is designed to allow people to experience the joys of collaborative making in a one of a kind space.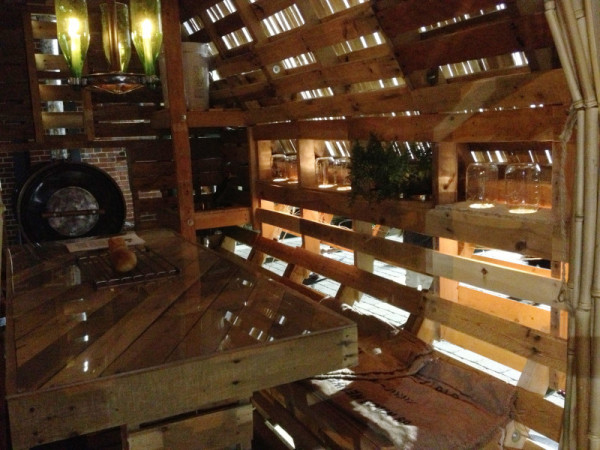 "Bread is a cultural fiber woven within our societal fabric, composed of three basic ingredients: flour, salt, and water," write the builders. "Throughout time they have been interpreted in many formats in pursuit of creating both a domestic and ceremonial product that is the perfect balance of form, function, and representation…The [Mobile Bread-House] performs as a Social Incubator that uses the act of bread-making as an artistic and social medium."
The Bread-House's hexagonal shape was derived from the B-House, a conceptual modular shelter system currently being developed by Peter Abrams. The portable structure is made primarily of pallets sitting atop a retrofitted boat trailer. Its deceptively-small interior features Rocket Stove/Bread-Oven made from reclaimed 55 gallon metal drums and Household Tin Cans, and a "Cultural Shift Table" that provides a place to knead dough.
The use of reclaimed materials "provides for a critique of issues concerning waste culture, pallet wood being the primary medium in the installation is used structurally and decoratively throughout the space, the reclamation of the material conjures a variety of notions dutifully left to further artistic interpretation," note the builders. "The elevation of the material inspires the visitor to think about what they can do with everyday waste."
The Mobile Bread-House is currently traveling throughout the Trenton, New Jersey area, bringing the joys of making, baking, and breaking of bread to the public at large.