Designing a regional headquarters for an organization as influential as the United Nations is daunting at best. How does one create a structure that conveys the global society the UN claims to serve and protect? Danish architects 3XN decided to design a star–literally.
The firm recently completed a star-shaped regional headquarters for the United Nations in Copenhagen. The building itself is impressive, but once you go inside and dig around, the real stars of the show are all the unique technologies included to help save energy and reduce impact.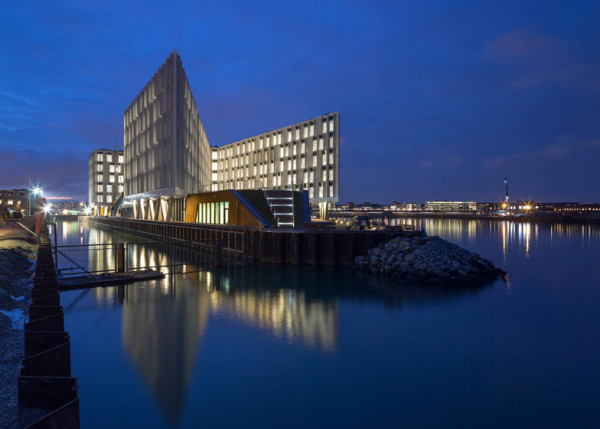 The building, called 'UN City', employs an eight-pointed star shape in an effort to demonstrate the UN's mission to reach all corners of the world. A unique challenge for the architects was to create an open, welcoming ambiance while still providing for the high security needs of such an international headquarters.
"The atrium is the centre of daily life offering visual and physical connections across floors and units in a space full of natural daylight and a central staircase," explain the designers. "All office levels have an open and flexible layout permitting interaction as well as individual immersion. Work stations are ensured plenty of daylight and a good indoor climate."
Sustainability was also a main focus of the design. Entirely filtered by outside air, the building limits its own levels of chemical pollutants and regulates humidity naturally. On the roof, more than 1,400 solar panels generate an estimated 297,000 kWh/year, significantly reduce the need for electricity from the grid. Additionally, the roof is coated with a white, recyclable membrane, made from plant-based materials to help reduce internal temperature and reduce electricity consumption.
Cold seawater pumped into the building's cooling system, almost entirely eliminates the need for electricity to power the cooling cycle, and pipes on the roof capture almost 3,000,000 liters of rainwater annually, which is almost enough to flush the toilets of the entire building without using potable water.
According to the architects, "the UN City is expected to become one of Denmark's most energy efficient buildings with an annual energy consumption of less than 50 KwH per m2. The UN City is registered with the LEED sustainability ratings system with the certification goal of minimum LEED Gold."